When it comes to software development, it's important to make sure that you select the right partner for the job. After all, choosing a software development partner wisely guarantees half of the success of the project. Not all teams are created equal, and not every team will be a good fit for your project.
While there are many factors to consider, from the team's experience to its cost-effectiveness, it's important to take the time to research and choose the reliable software development partner that best fits your project's needs. In this blog post, we'll discuss the essential steps to choose the right software development partner and share tips on finding one that meets your requirements.
The Role Of A Software Development Partner for IT Business
When it comes to building digital products, the choice of a software development vendor contributes to at least half of the success if not more. The execution of the business idea is no less important than the concept itself as users will judge your product based on its visual appearance, navigation simplicity, speed of loading, and other technical parameters. Even the most revolutionary idea won't attract attention if its implementation is poor.
Plus, how you choose a software development company also comes down to your comfort during the collaboration. You should be able to effectively contribute to the process, give feedback, and simply speak the same language as the team. Of course, let's not forget about the budget agreement and working hours match too.

In short, your development partner plays a role in how and when your product will hit the market.
How to Choose a Reliable Software Development Partner
How can you make sure that how you choose a mobile app development company will be a great value for your business but not a liability to deal with? There are five simple steps to go through before you sign a contract.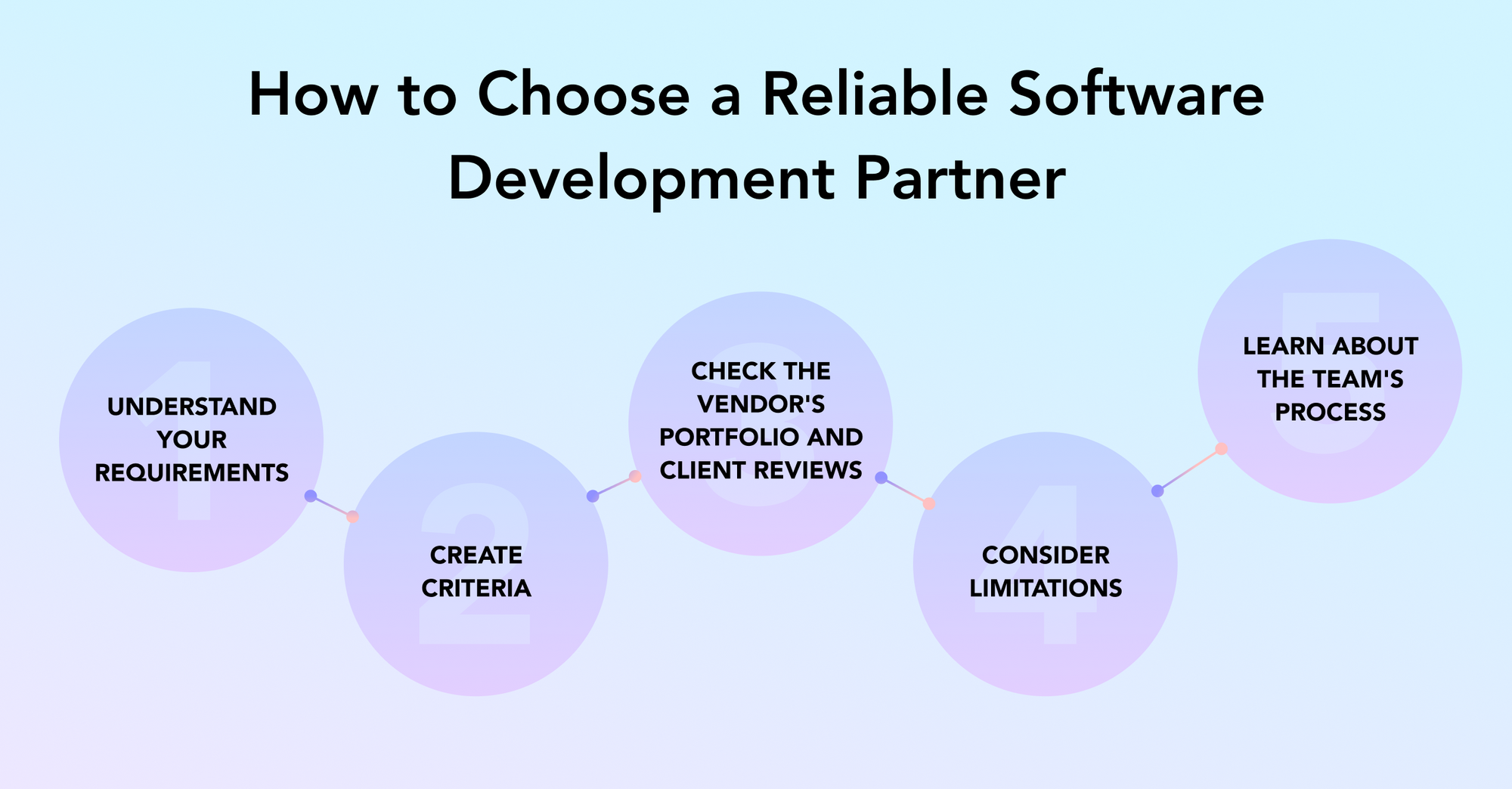 Understand your requirements
The first step to find app developer for startup is to understand your needs. You should have some requirements when it comes to which features and functionalities you need in the final product, as well as any deadlines or budget constraints.
You should also think about how you want to collaborate with the developers – do you prefer face-to-face meetings or virtual communication? Is it important that they use certain programming languages or tools?
Of course, you might not have a clear idea when it comes to the tech stack or feature set. Your software development partner will consult you and help you make an informed decision based on the project specifics and limitations.
Still, it's best to decide on your budget, deadline, and expected deliverables (a complete app, launch assistance, UI/UX design, etc) beforehand to avoid disappointment and unmatching expertise.
Taking some time to define what success looks like for your project will help ensure that you choose the great software development partner that is able to deliver according to your expectations.
Create criteria
Once you have outlined all of your requirements, it's time to create criteria to pick the right software development partner. Before reviewing the team's portfolio or booking a call with them, think about such parameters as a level of technical expertise, past experience, customer reviews, cost estimates, etc., and create an objective checklist against which all applicants can be assessed fairly and accurately.
You can compose a checklist based on the requirements you came up with beforehand. For example, your checklist can look the following way:
---
🚀
Just saying, Perpetio team checks all the points of this checklist! If you are looking for a reliable mobile app development partner for MVP and startup projects, contact us for detailed cost estimation.
---
Creating a checklist will help ensure that all candidates are evaluated consistently against one another so that only qualified teams get through to the next stage of the evaluation process.
Check the vendor's portfolio and client reviews

After creating a criteria-based assessment process, it's time to check out each potential partner's portfolio thoroughly to select the right software development partner. The portfolio provides detailed information about their previous projects, technologies used, challenges addressed, and so on.
Usually, software development companies include their cases on the website, so you can find some projects there. Additionally, you can always request a portfolio with solutions in your industry or with your preferred technology. This method can help you decide whether this particular company fits your expectations or not.
In addition, you should check the unbiased reviews of the company's previous clients on such platforms as Clutch, GoodFirms, and LinkedIn. Often enough, software development partners post the reviews on their social media too.
Consider limitations
When you try to find a software development partner, pay attention to the possible limitations too, like how long does it take to make an app. Your project requirements and deadlines may be too ambitious for some software development partners; either because they lack the necessary skills or experience required or simply because they don't have enough manpower available due to other commitments or a lack of resources.
The limitations can include the availability of specialists ready to work on the project now, the tech stack a team works with (e.g. you want a project built on a framework that was only released 2 months ago and the specialists haven't got a chance to master it), their infrastructure, the project scale they are ready to undertake, and so on.
If your potential software development partner is located in a different part of the world, it could introduce complications such as communication issues related to language barriers, time zone differences, cultural differences, and other logistical problems that can arise from distance.
For example, you should understand that not every software development company can create a digital solution on an enterprise scale since it requires a big team and complex tech infrastructure.
That's why it is crucial to investigate the current capabilities and restraints of the team before making a decision to collaborate.
Learn about the team's process
Finally, it's time you enquire about the entire mobile app development process from beginning to end from your preferred software development partner. You can ask such questions as
What sort of delivery model do you follow?
How often do you communicate with the client during different stages?
What are the communication channels you can use?
How can I track the project process and give feedback?
Do you provide post-launch support & maintenance services?
Which documents will we sign and how do you guarantee the quality of the service?
Plus, you need to consider if your potential partner has experience in your domain and knows, let's say, how to make a fitness app, how to build a travel app, or how to make a social media app. Such domain-specific experience will guarantee that the team understands the design and technological features to bring to your product as well as any legal requirements to consider.
All these questions will give you better insights into the partner's quality standards and collaboration model.
Summing Up
So these were a few tips to take into consideration when you work to find a mobile app development partner for your project. Choosing the right software development partner can be a challenging task. It's important to take the time to research potential partners and understand their capabilities, strengths, weaknesses, and pricing models.
By understanding what type of software expert you need and finding out how they can help you fulfill your goals, you'll be able to determine the best fit for your needs. Remember that selecting a reliable software development partner is essential for your project's success: with an inexperienced or simply ill-fitting team, even the best idea won't shine.
---
📩
Interested in working with a mobile app development partner that is flexible, experienced, and responsible? Perpetio is your best bet. Get in touch with us if you have a project in mind.
---
FAQ
What are the benefits of working with a software development partner?
The benefits of collaborating with a software development partner include cost-effectiveness, a possibility to find a skilled team with domain-specific experience, flexibility of the process, and an option for technical consulting during the development.
How to find a reliable long term software development partner?
To find a reliable software development partner, decide on your requirements for the team, come up with a checklist, find potential partners on such platforms as GoodFirms or Clutch, check the team's portfolio and reviews, and ask for a call to disucss details.
How do I choose a software development partner?
To choose a software development partner, you should come up with a checklist of your requirements for the team, then select several candidates based on their clients' reviews and portfolios, and ask for an online interview to get more information about the company.