Let's discuss how to create a successful launch strategy for mobile application including pre-launch and post-launch activities.
Why do you Need a Thoughtful Marketing Plan for Launching Your Mobile App?
Before we start with an action plan for launching a mobile app, we should explain why a marketing strategy for launching mobile app is a must for achieving excellent results. Short version: it's hard to make informed decisions when improvising on the way and basically navigating product marketing in the dark.
A longer version is that when you invest in building a mobile app for your business, hoping for a chance would cost you a lot of money. The truth is that without a well-thought-out launch strategy for mobile app, all your efforts will be just hectic actions that lead to a waste of resources and an absolutely unpredictable result. Making shots in the dark can't work long-term and might not bring you any results in terms of the app's discoverability and scaling up. So what should you do then? Let's discuss how to launch an app that can attract and retain users with ease.
Pre-launch Marketing Activities that Need to be Done to Launch Your Mobile App
We will start out with the activities you need to conduct long before the launch day. These steps will help you prepare the ground for an outstanding mobile application launch.
Think about product positioning
Even before starting to build the app itself, your design and business development teams need to dedicate some time to understand how your product will fit the industry market.
Usually, pre-design research methods include:
Market research
Studying your competitors, learning from their strengths and weaknesses
Understanding potential users, their pains, and how an app can help solve their requests. This step usually includes user persona research
This information will help the team define your product's competitive advantage and get insights into how to market it. That's the first step towards a lucrative mobile app launch strategy.
Create a landing page
While your preferred company is in the process of full-cycle mobile app development, it's important not to wait around and focus on preparing the online presence of your application. A landing page is one of the must-have pre-launch activities.
While you are promoting your application on social media (more on that later on), there should be a hub that contains all the information about the upcoming product, such as the app launch timeline, news, a short introduction of the feature set, and so on. Later on, your landing page can transform into a full-fledged product website. That's one more reason why you need to create a domain for your app as soon as possible.
Establish a social media presence
It's best if you create some buzz around your app even before it is completed. To be sure that there will be a pool of first users, social media presence should be a part of your app launch strategy.
Create a page on the most popular platforms and get started with the content: film TikTok sketches of people using your app, write Facebook posts with news, share a sneak peek into the app's screens on Instagram. In other words, make sure everyone knows about your application coming out!
How to Provide Post-launch Strategy for Mobile Application?
Hurray, your app is out! Thanks to your efforts during the app launch planning stage, you have first users, reviews, and social media buzz. Perfect. But what should you do now? How to make sure the success won't be short and your app isn't a one-day wonder? We have some tips.
Ensure post-launch audience listening
Post-launch time means that you are getting a fair amount of feedback. Use it wisely. Make sure your team is aware of the reviews on the App Store or Google Play and reads comments on social media. Look carefully into what should be improved and how's the overall user experience. Of course, your audience would love to get a reply to their comment and know that their opinion is valuable to you.
Reach out to media and influencers
Often enough, social media presence is not enough. Yes, algorithms do work well but you can speed the process up and reach out to more people through influencers. You can find bloggers or media in your domain and offer them to review your app. It can be just paid advertising or a collaboration with a fair review. What matters is the audience of the influencer or media matching your app's user personas. Yes, we did the pre-launch research for a reason.
Offer rewards for the first users
A good way to get the first users of your app is by offering discounts, codes for free access to the app's premium version, or other benefits. Let's be honest, not everyone is interested in downloading a brand new app without any reviews. That's why there should be some extra motivation to check out your product. A free premium version of the app for a longer time, access to some extra features, or discounts for in-app purchases are some of the options.
Extra Tips for Avoiding Pitfalls when Launching Mobile App by Perpetio
These were the best practices of launching an app, including the pre- and post-launch activities. But there is more for us to share on how to launch mobile app. Based on our experience working on launch strategies for mobile apps, we have three tips for you.
Set KPIs and track your metrics
As we have already mentioned, hoping for everything to play out right and your app to blow up by itself won't work. That's exactly why you need a reliable marketing strategy. But how would you know if everything is working right and your app is successful? Set your expectations clear.
Before the app launch, you need to draw out the Key Performance Metrics (KPIs) that will define your app's success. Your metrics can include:
Number of downloads per week/month
Number of unique users
Time spent on the app
Revenue metrics
Monetization income
By tracking your KPIs, it is possible to determine the weak points of the app's marketing strategy, improve your performance, and overall understand where you stand.
Go with an MVP approach
Minimum viable product (MVP) is an approach focusing on creating a product that contains only the most necessary features to get the users' interest. In other words, a development team builds an app that is "just enough" to be competitive on the market while not spending too many resources on extensive functionality.
We encourage our startup clients to start their mobile app development journey with an MVP because this approach is a way to validate idea and launch a full-fledged app in a short time (2-3 months) while optimizing the resources.
---
Learn how to estimate the cost of your MVP project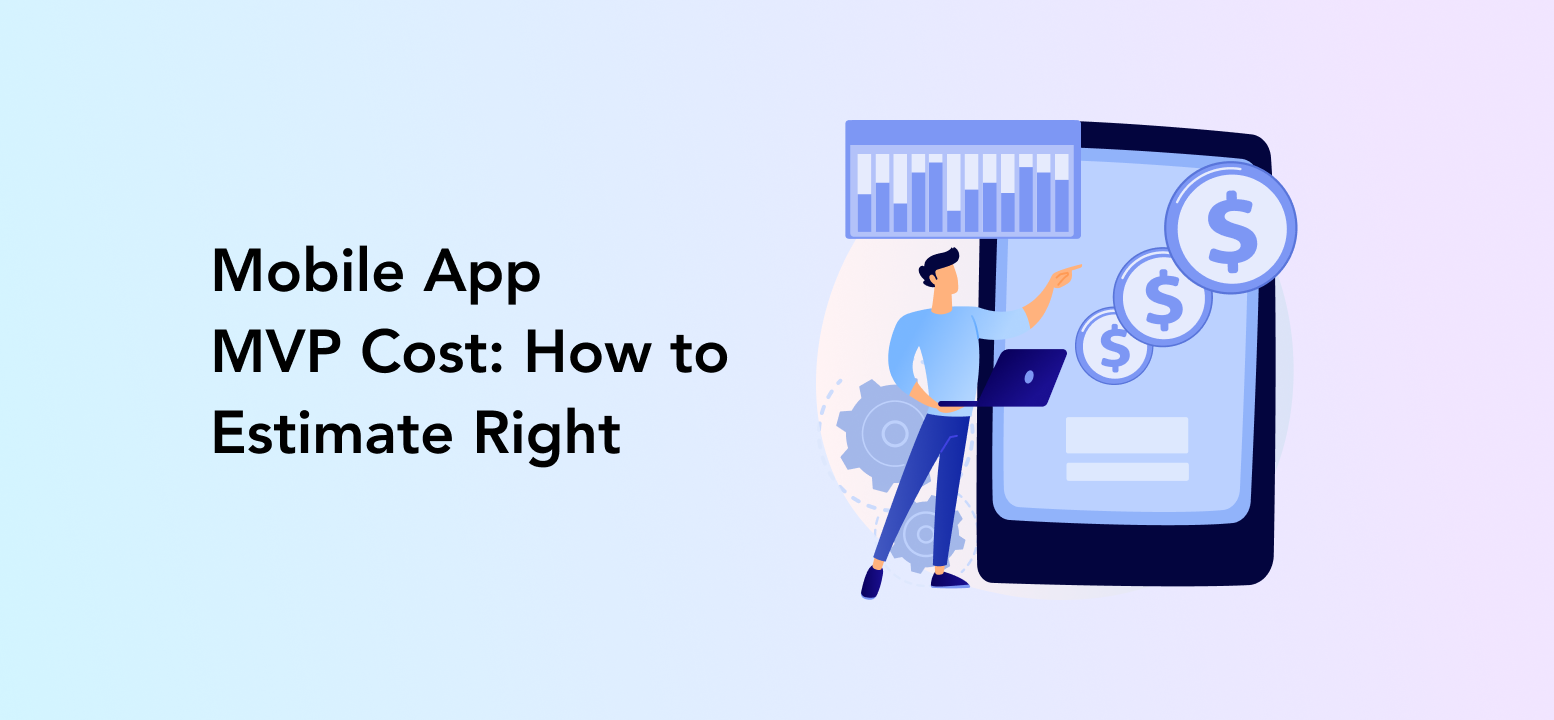 ---
Plan scaling up
After getting feedback from the actual audience and measuring your KPIs, it's time to scale up. Adding more features, fixing things your users are not happy about, removing redundant functionality — all of these should be on your to-do list months after launching the app.
Based on the budget, project KPIs, and overall app success, you can start transforming your MVP into a more diverse app with wider functionality. Of course, this can be done with the support of your mobile app development team.
Consider Perpetio Your Trusted Partner
As a company that provides both iOS app development services and Android app development services, we know a thing or two about how to launch mobile apps. Let us share a recent case of an app's pre-launch activities that are helping a product gain an audience even before it comes out.
Mowyty is a language learning application created for Ukrainians studying Polish. Our team is still working on rolling out the iOS and Android versions of the app, but you can already find information about this product online. For example, Mowyty already has its website where the audience can read about the upcoming app, its functions, and the release date. Additionally, they can sign up for a newsletter to get updates and a discount code for Mowyty Pro.
In such a way, we are already getting the interest heated up for the Mowyty app and attracting a pool of potential users while finishing the work on the application itself.
Final Thoughts
Launching a successful mobile application might seem like an easy task — you simply upload an appl to a platform of your choice and that's it. In reality, a successful launch takes careful planning and a set of both pre- and post-launch activities. A product launch doesn't take one day; instead, the months spent on the app's development should be filled with marketing activities too.
Of course, it is easier to manage the launch marketing strategy if your mobile app development team specializes in business development and marketing too, so you don't need to deal with it yourself. We at Pepetio support a holistic approach to product development, meaning that we offer tech and business consulting along the way.
FAQ
What is the best marketing strategy for launching mobile app?
A successful launch strategy includes a set of pre-launch and post-launch activities. For example, before launching an app, it's necessary to create social media accounts and a landing page.
How to organize an app launch timeline?
Apart from setting the very launch date, you need to complete several pre-launch activities, like creating a landing page, and post-launch activities, like audience listening.
What are some of the marketing pre-launch activities?
Marketing pre-launch activities include researching product positioning, establishing social media presence, and creating a landing page.