Just like any marketplace out there, NFT platforms are all about buying and selling. After all, non-fungible tokens are simply goods in their essence. Still, if you open an NFT marketplace website, let's say, Open Sea — the most popular platform at the moment, you might notice that it doesn't really look like an average online shop.
Creating UI/UX design for an NFT platform can be quite a challenge: how do you incorporate blockchain's complex mechanism into an easy-to-use platform? Let's discuss how to design an NFT marketplace to make it work perfectly and be as simple to navigate as Amazon.
A short remark about NFTs and NFT marketplaces
Before we dive right in, let's have a quick recap and answer two important questions so that we know what's what.
What are NFTs?
If you follow digital trends, you might already know that NFT stands for non-fungible token and basically means a unique virtual object. A digital artwork, song, meme, or a character — all this can be an NFT. Moreover, even a real-life object, like an apartment, can also be an NFT: a person proves their ownership over the property via blockchain.
If you want to know more about how the NFT ecosystem works and read about top NFT platforms out there, check out our recent material on the topic.
What is an NFT marketplace?
To buy and sell NFTs, we need dedicated marketplaces. And those don't work like a supermarket website. There is a blockchain standing behind all the transactions, users need to possess crypto wallets, buyers want to have all the information about the piece's background.
At the same time, as a designer providing NFT marketplace design services, you need to remember that your users don't have to understand how blockchain works to buy something. Smart contracts, Ethereum blockchain, Binance crypto wallet — these terms might be Gibberish to them. Regular users simply do not need such complexities; all they want is to buy or sell an NFT with no extra headache.
Let's go through the must-have features to include in your NFT marketplace design to create a convenient and well-organized solution.
Essential features of the NFT marketplace (with examples by Perpetio)
While your NFT platform might focus on various types of digital art and run on any kind of blockchain, there is a set of features necessary for any NFT UX design to make it all work.
Separate dashboards for buyers and sellers
First things first, NFT platforms have two primary target audiences — NFT creators and sellers. They want to achieve entirely different tasks, so separating the dashboards is essential.
For example, sellers will need tools for listing and describing their items, setting prices, accepting bids, getting their payments, and so on. At the same time, buyers would want to like works or leave reviews for the sellers.
Home page
The home page is the central hub of your NFT platform and a crucial aspect of NFT marketplace UI design. It is the first interaction with the marketplace, and first impressions count a lot. It is up to you how to organize the feed, but adding top NFTs of the day/week/month or top sellers can be a good idea for starters.
Let's look at the example of an NFT marketplace design we created here at Perpetio. The home page contains the featured work that users can buy in one click, a list of top sellers of the month, and popular collections.
Search with filters
Suppose your user is looking for something more precise, like a trading card. Not to waste hours scrolling through all the available NFTs, they would be happy to click on the preferred category and filter the results to get the most exciting items at the top of the page.
As for the categories, it all depends on what your NFT platform specializes in. For example, if you look at our design, you can notice that it is a universal marketplace, not dedicated to one particular type of NFT. That's why users can choose between the categories of art, photos, games, music, and so on.
As for the filters, the task here is to make the search convenient and predict what the user might want to see first. For instance, items can be sorted from the cheapest or the most popular ones.
Listing page
Our user clicks on the item — this artwork looks interesting. Apart from examining the very work, its author, and pricing model, potential buyers need more information on the NFT's origin and background.
The history of each token, such as the date of its creation, previous owners, and so on, is crucial because of how NFTs work. Users need to be sure that the item is unique and original. Previous owners and collections also define the price of the token.
An important aspect to consider is the payments model. We left the choice to the sellers: they decide whether they want to receive bids or set a fixed price for each work.
The like system allows users to return to the works they are interested in. Moreover, it helps form the list of the most popular NFTs and sort them in the search results.
Some more features
Apart from these main screens, don't forget about such features as
Crypto wallet: adding the wallet, checking transactions
Create a listing page for sellers
User profile with the follower count and links to social media
Onboarding or "How it works" page
Transaction history or activities.
These are the main features to add to your NFT marketplace design. Not forgetting any of these will definitely help you create a good, all-around project. But how to make it an excellent one? We have a few tricks for you.
---
Liked our NFT marketplace project? We can make one for you too!
---
Tips and tricks to make your NFT marketplace UI/UX design perfect
As a company providing web design and full-cycle mobile app development services, while working on NFT marketplace architecture design, we noticed some aspects that make the design more user-friendly and consistent. By following these simple rules, your platform will have way higher chances to be liked by users, we promise.
Remember about your niche
Let's begin with setting the scene or, in other words, choosing your niche. Before getting to wireframing or anything else, you need to ask yourself what this platform is selling and how it might influence its functionality and appearance.
Is your marketplace universal or targeted at one specific type of NFTs? Is it welcoming all users, selective regarding style and quality, or gives an advantage to inexperienced sellers?
You can create a more accurate user persona, draft a detailed user journey, and understand which design decisions to make based on your positioning.
For example, if you position your platform as a selective digital modern art gallery, you might consider making more reserved, minimalistic design choices. At the same time, you might choose to go the opposite way and make a loud and blaring UI to create a feeling of exclusivity.
Take a look at the example of the music NFT marketplace below. The content sold on the platform is not visual, so the designer felt free to make bold UI decisions, such as a vivid illustration on the home page.
Beware of the color palette
One more piece of advice is to match your color palette to the works sold on the platform. No one likes messy design that overwhelms you with colors and elements.
For example, if you are creating a universal, one-stop-shop NFT gallery, it might be wise to make the background as neutral as possible. You will see all kinds of art on the platform, so your vivid background palette will likely not match all the content. Unfortunately.
Our NFT marketplace web design for Kiki has a plain black background with white typography. Some might say it's boring. We say no distractions. The point of any marketplace is to sell, do you agree? That's why it's so crucial to make tokens the center of the user's attention.
Introduce parallax animation
Time to add some dynamics to your solution. You can observe parallax animation on most websites. It's a simple yet eye-catching method to organize information and create a visually pleasing experience. Parallax animation is a scrolling technique when visual items roll one by one on the screen.
Parallax animation is not only excellent for arranging your NFT items but also for capturing users' attention and keeping them entertained. Usually, NFT marketplaces are filled with hundreds of items, so it's crucial that scrolling through them is convenient. By letting the elements appear on the screen orderly and dynamically, you are sure to create both effective for navigation and simply aesthetic UI/UX design for your NFT platform.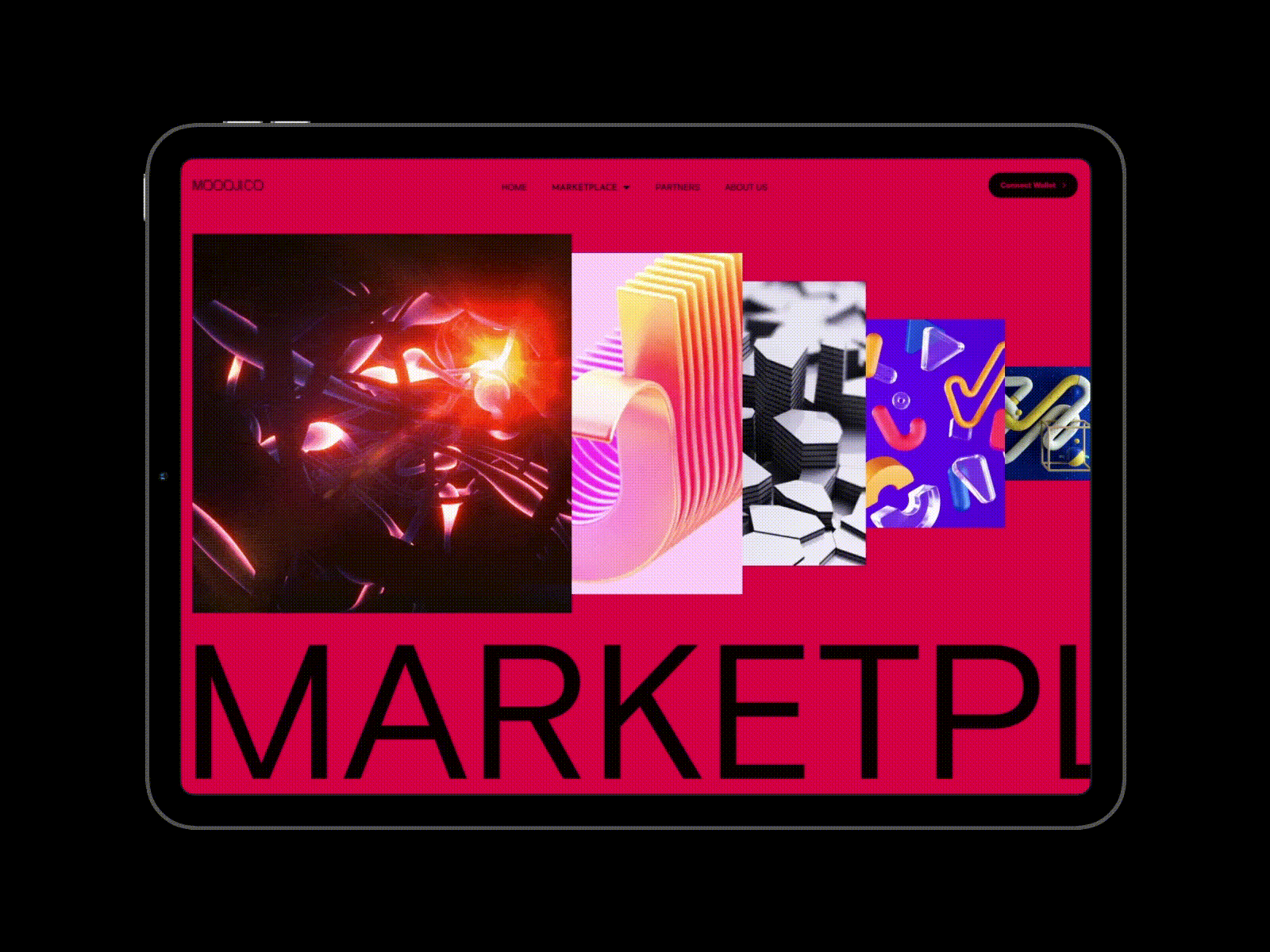 Give users the information they need
When it comes to NFTs, there are two important sides to it. And we are not talking about creators and buyers, even though this aspect is the base of the NFT ecosystem too. What matters is not only the very token itself but the information about it. Remember we talked about how the ownership of an NFT can be tracked? This data should be easy to find and access.
Because ownership is such an irreplaceable part of how crypto trading works, every buyer would need to review the piece's trading history, owner, and so on. It's best if this data is available on the same page as the very NFT. For example, you can place this information under the token or divide the page into two sections.
Make use of the dark mode
You might have noticed that most NFT marketplaces, ours included, have dark backgrounds. And, of course, it's not a coincidence. Why is the dark theme prevailing when it comes to the NFT marketplaces?
There are several reasons:
Dark background allows users to concentrate on the tokens rather than get distracted by the variety of colors.
Black is contrasting and helps us see the elements of the work better: it highlights the bright colors.
The dark mode seems futuristic — nothing else suits NFT platforms better, don't you agree?
Let's not forget that it is more comfortable and less harmful for the eyes. Choosing an NFT to buy can take a long time in front of the laptop.
Does it seem reasonable enough to design your platform in a dark mode or let your users switch to it? For us, definitely.
Keep it simple
Last but not least, remember to keep your interface simple. This little rule concerns all kinds of platforms, apps, and products, but especially NFT marketplaces. They are filled with content. And it is the content that should attract the user's attention. Proper structuring, straightforward navigation, minimum elements — that's a sure way to keep the content at the center and not make your users' heads spin.
After all, you are inviting people to buy or sell something via your platform, so they should see the shortest and easiest way possible to do that. Simpler to do, fewer chances to quit and close the website or app. Makes sense, eh?
Final thoughts
Like any other solution, good NFT platform UI/UX design means proper user and market research, thoughtful decisions, clear navigation, and an interface that compliments the content. While there is a complex blockchain mechanism behind the marketplace, the front store should be attractive and easy to use, even for those who don't know a thing about NFTs. After all, an NFT marketplace is somewhat a gallery too.
Plus, keep in mind a few simple tricks we shared, and there is no chance of making a bad NFT marketplace.
---
Ready to create something great?
---
FAQ
How can I develop an NFT marketplace?
To develop an NFT marketplace, you need to collaborate with a company providing web or mobile app development services. It's best if the team already has NFT platforms in its portfolio. Perpetio is open to new NFT marketplace projects — we can discuss your product via the contact form on the website.
Is the NFT marketplace profitable?
Yes, you can monetize your NFT trading platform by taking a small commission for each transaction.
What are the must-have elements of UI/UX design for an NFT platform?
A successful NFT marketplace UI/UX design should include such features as a search with filters, a listing page with detailed information on the token, a selection of bidding options, crypto wallet integration, and user profile.