It is now more than a month since Ukraine has been fighting back against the Russian invasion. For some of us, it feels like forever, for others like one day. Nevertheless, every Ukrainian will always remember the date of 24th February 2022.
United more than ever, Ukrainians are helping each other in every way possible — by making donations, giving rides, welcoming those who had to leave their homes, or sending all kinds of aid.
Technology has become a powerful tool too. Thanks to various applications and websites, it's easier to find or offer assistance, get to a safe place, and receive important information.
Most of the tech solutions created during wartime are non-profit. Big Ukrainian IT companies, startups, and individual developers are taking their time to build apps and websites that make sharing information easier in such difficult times.
Ukraine has a big and highly skilled tech community. There are more than 200 000 IT specialists and most of them are now back to work. Many are willing to help Ukraine with what they do best: designing and coding. The services we will discuss today were often created within the count of days by developers who worked overtime for free. Despite this, the quality of apps and websites remains high, you can check it yourself.
We would like to present 10 tech solutions that are aiding Ukrainians today — the ones our team uses and finds impactful.
Air Raid Siren app for getting civil defense siren notifications
Ukrainians can hear an air raid alarm at virtually any time of the day or night. Hearing this sound means you need to take all your necessities (such as food, water, documents) and proceed to the closest shelter.
The problem some Ukrainians faced in the first days of the war was that sometimes the alarm is be that clear. There might even be some parts of the cities and villages where the siren cannot reach at all because one siren is covering a rather big area. Additionally, if an alarm goes off at night and your windows are closed, you might not hear it through your sleep.
That's why Ajax Systems, a tech company specializing in wireless security systems, created an app that sends notifications about civil defense sirens. Users can choose their region and get a sound notification on their phone at any time. The notifications are as loud as possible and work even when the silent mode is on. It doesn't track any geolocation data or require user registration. The app is available on iOS and Android and was created in just one day.  
The application informs users about the start and end of the civil defense sirens, be it a possible missile attack, chemical threat, or any other danger. The latter is as important because in some shelters, like underground parking lots or basements, people might not hear the announcement of the end of the siren.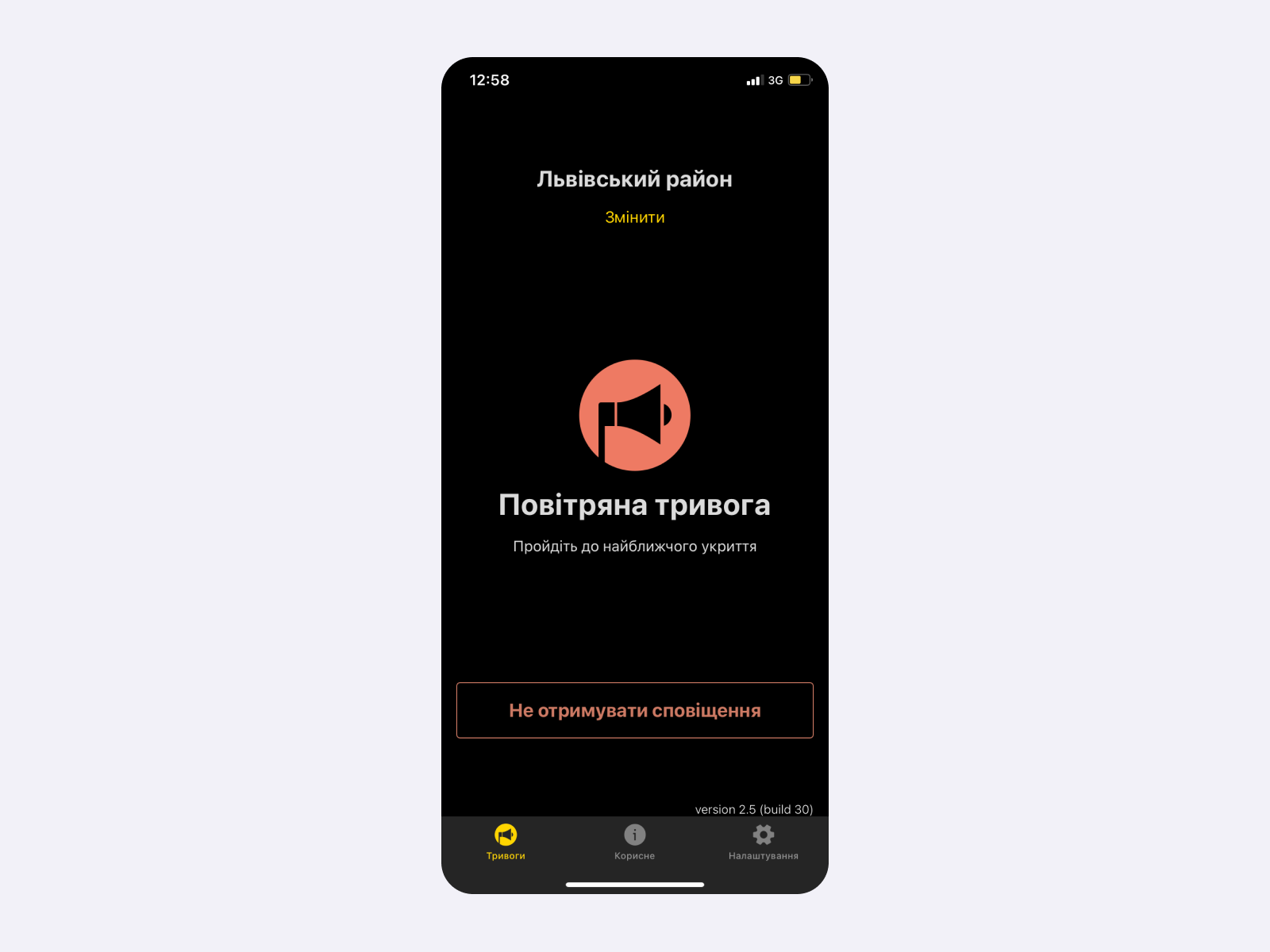 Help Ukraine app for offering and receiving volunteer help
Help Ukraine is the first volunteer application created for better coordination between volunteers and those who need assistance.
Many Ukrainians use social media for this type of announcement, but these posts don't always reach the target audience or simply get lost in the tons of new content posted every hour. The Help Ukraine app, created by Andrii Moisol, makes getting in touch for exchanging help way easier as it offers search by region and category.
The mechanics of the solution is quite simple: there are seven categories where users can add post asking for help or offering their assistance. These include:
Accommodation
Medications
Food
Transportation
Help for the army
Donating blood
Other
Each user can leave a link to their social media profiles or share their phone number to get in touch. Just like that, people can reach out to each other in a preferable way.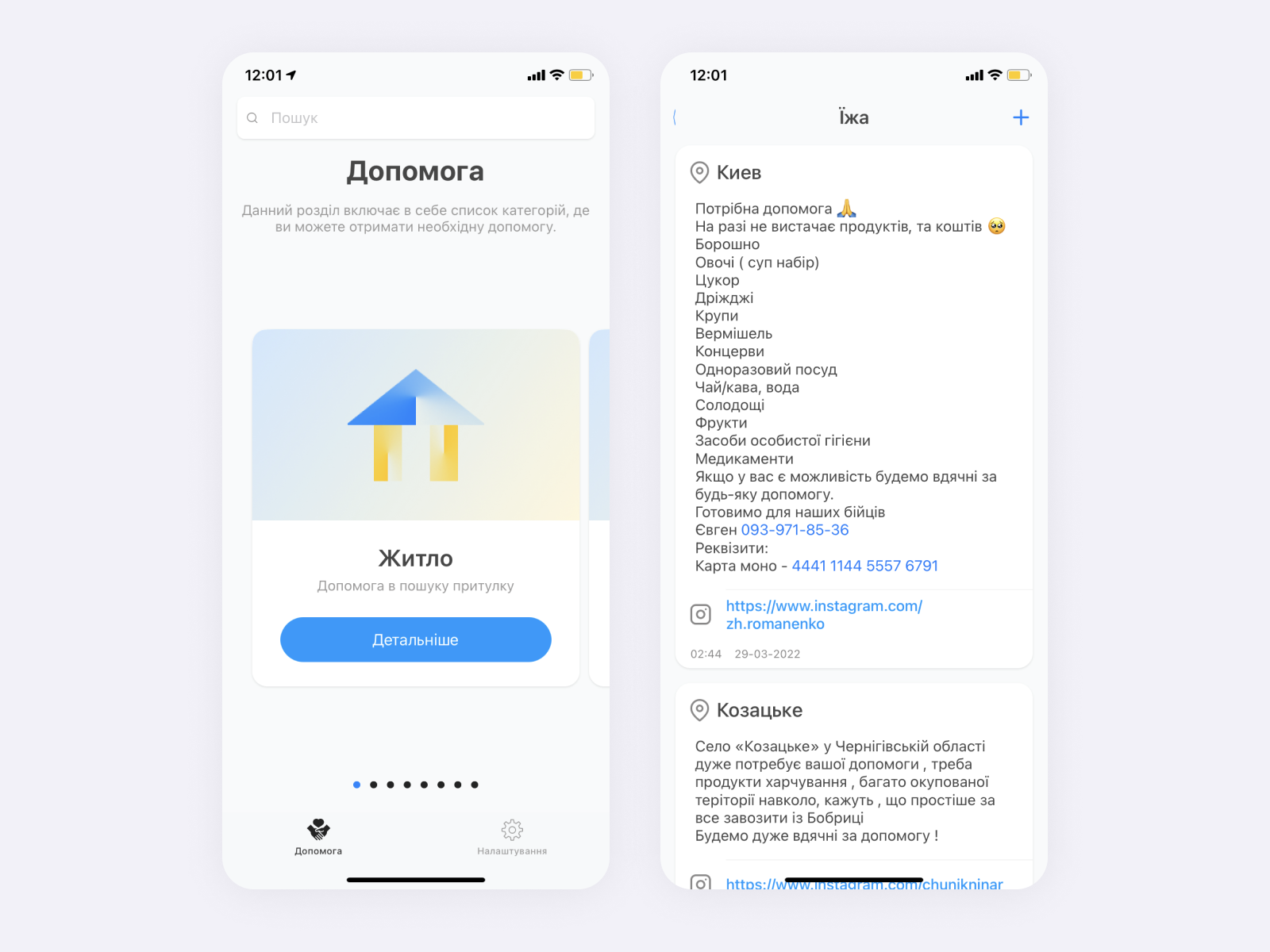 TacticMedAid app for learning tactical first-aid treatment
Knowing how to provide first aid help is an incredibly useful skill, especially now, when, unfortunately, there is a higher chance of finding yourself in a dangerous situation.
TacticMedAid is a platform focused on tactical first aid for civilians and combatants. The app includes information on how to provide medical assistance under the condition of an increased threat. The application works offline, so anyone can immediately access instructions without the Internet.
In the application, combatants can find an action list for all kinds of trauma during wartime, like burns or breathing difficulties. Additionally, the app includes guidelines on communication, keeping records, and preparing for evacuation. Civilians can find recommendations on what to do with bleedings — the most common and dangerous trauma in war conditions.
TacticMedAid is not only an app; users can check out the Telegram channel with updated programs and first aid quizzes, as well as find detailed video instructions on the YouTube channel. More than 20 volunteer specialists are still working on improving the app.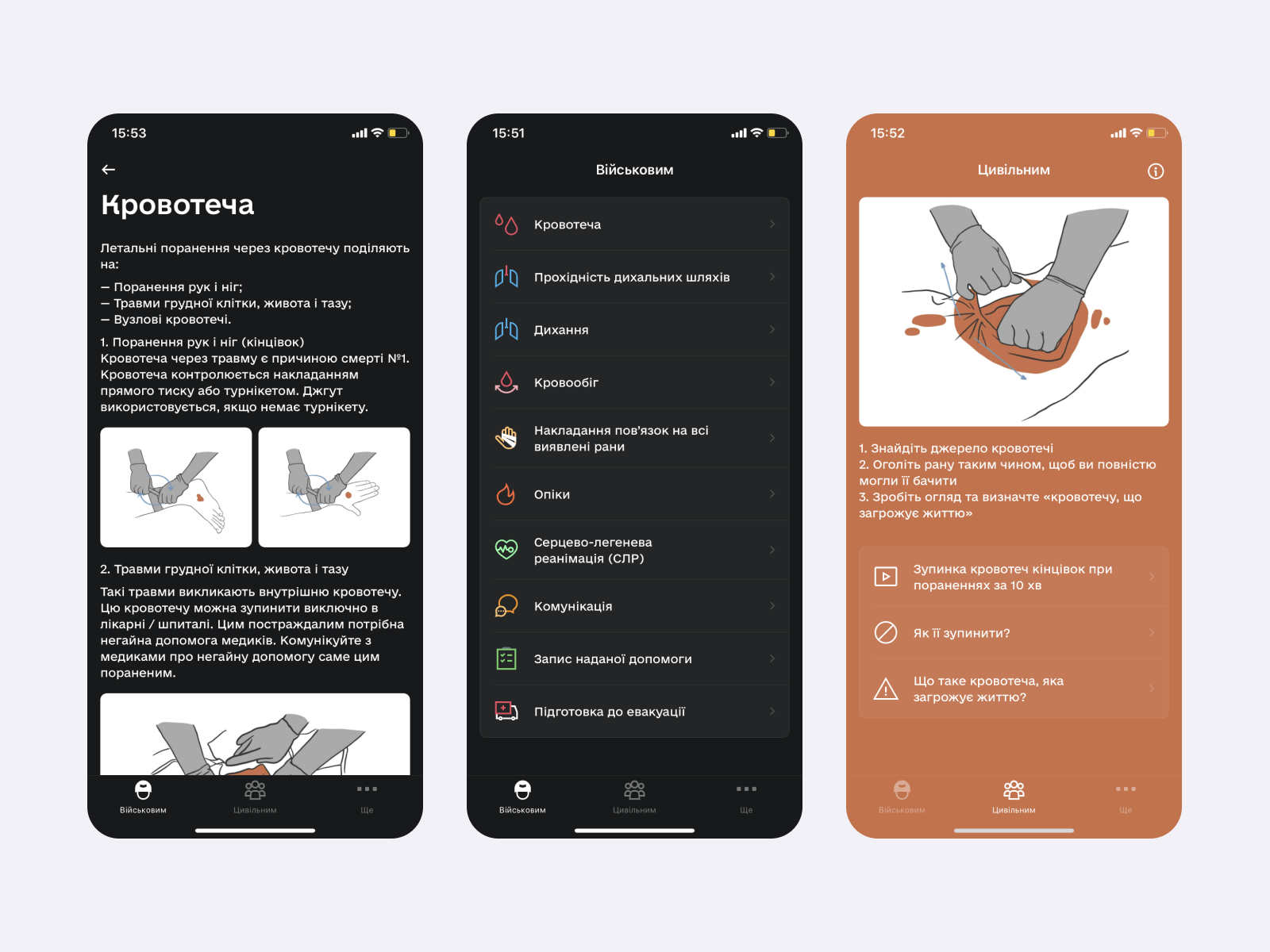 Perevir bot for fact-checking
The war is happening not only on the front line but on the Internet too. Spreading disinformation, panic messages, propaganda, and fake news creates psychological pressure and demoralizes Ukrainians. Hybrid war is a powerful strategy Russia is actively using right now, so double-checking all the information online is a must.
For example, a deep fake video with the Ukrainian president Volodymyr Zelenskyy announcing capitulation was circulating on social media to undermine the spirit of Ukrainians. To avoid believing such messages and distinguish between reliable information and fakes spread by Russia, a dedicated Telegram bot was created by journalists from Gwara Media.
Users can send any materials, like social media posts, photos, videos, and links to the bot and get a reply in just a few minutes. If any social media user finds something that looks questionable and suspicious, it's easy to fact-check the message.
Additionally, the journalists add a new list of fakes spread every day, so Ukrainians can be aware of what false information they might encounter.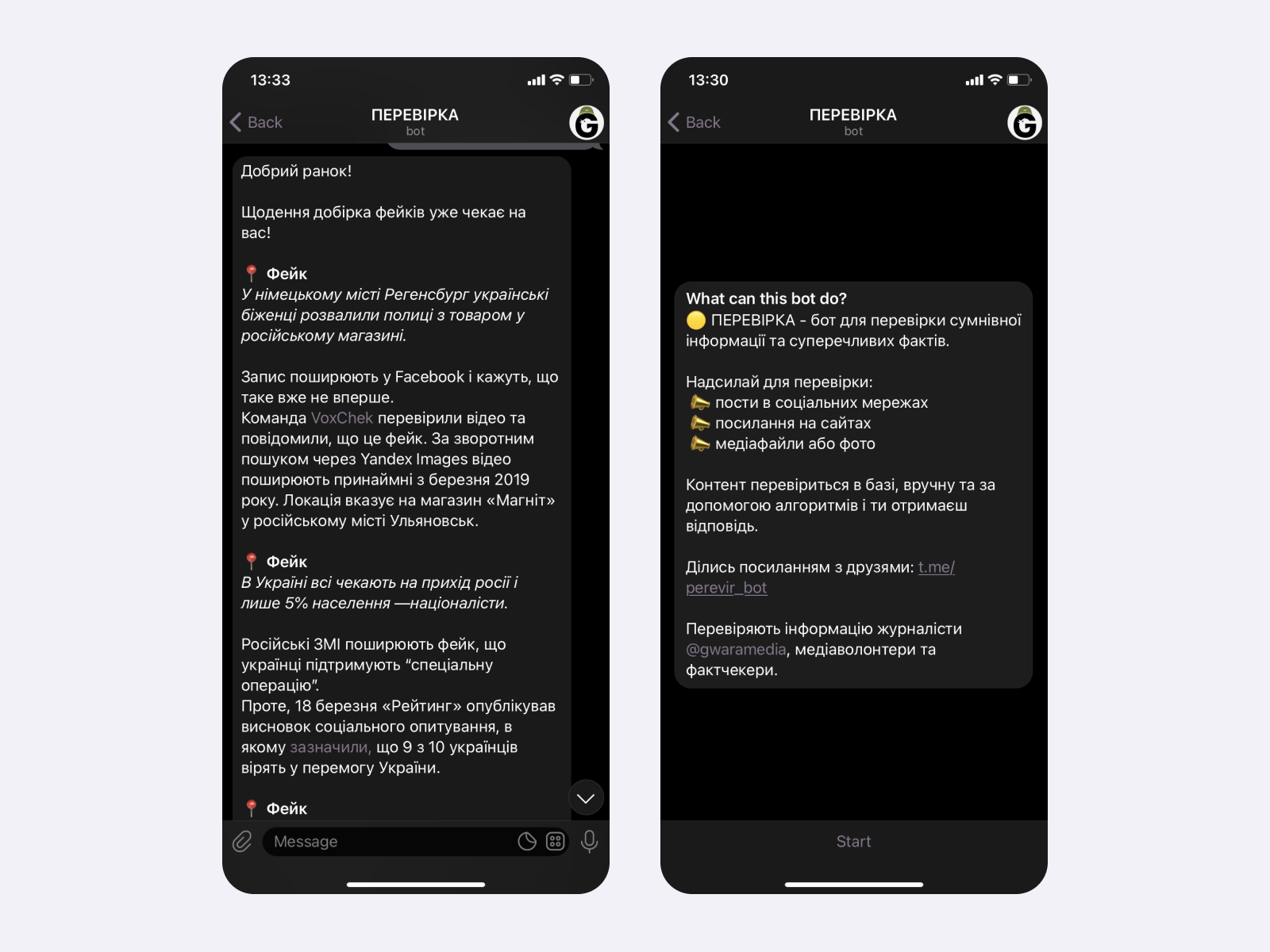 Support Ukraine NOW website for helping Ukrainians from anywhere around the globe
"Is there a way I can help Ukraine from abroad?" is a question Ukrainians often hear from their foreign friends and acquaintances. The answer is "Of course, yes!" In fact, there are many possibilities to help Ukraine, from donating to joining a protest.
To make it easier, a website called Support Ukraine NOW contains all the links for helping Ukrainians in one place. It is a crowdsourced information platform that lists official funds and requests from trustworthy Ukrainian organizations.
Sending help is a bit more than making a bank transaction or buying medicaments. It is also essential to ensure that your aid reaches people who need it as soon as possible and that the organization you choose is trustworthy. On Support Ukraine NOW, foreigners can find reliable local funds.
What's more, let's remember that supporting Ukraine doesn't come down to donations only. As a foreigner, you can join a protest in your city, spread information, sign petitions, and much more. You can find detailed instructions and numerous other ways to participate on the Support Ukraine NOW website.

U-Hero NFTs for supporting Ukraine through art
Fundraising for the Ukrainian army takes many forms. Some influencers and businesses simply ask their audience to donate; others offer something in exchange. Digital art is one of the popular items to sell for charity. For example, the biggest Ukrainian scout organization, Plast, created an NFT collection to raise money.
The collection is called U-Hero and includes 146 artworks created by Ukrainian artists depicting people who are helping their country right now. It's not only the soldiers — volunteers, doctors, deputies, and cyber warriors can also be found in the illustrations.
The organization collects money to supply the Ukrainian army with body armor and helmets. The collection creators say that each person buying an NFT and, thus, donating to the army also becomes a hero, just like the people in the pictures. The price range varies from $45 to $500 — the exact prices of the armor items. As a result, buying an NFT artwork means protecting one soldier.
After the beginning of the Russian aggression in 2014, many Ukrainians decided not to buy products imported from Russia. The logic behind such a decision is quite simple: each company operating in Russia pays taxes and, as a result, contributes to Russian aggression against Ukraine.
No wonder many Ukrainians want to be sure that their favorite chocolate brand or the washing powder they buy is not sponsoring the Russian military. The tricky part is that many brands continue operating on the Russian market and avoiding sanctions through subsidiaries and distributors, so it's not always black and white when you read the label.
That's why Perpetio's friend and ex-employee created a Telegram bot that automatically gives information about a particular product or company. Users just need to type the name of the product they want to check and get a reply as to whether this product is made in Russia or if the foreign producer decided to stay on the Russian market. In such a way, each consumer can make conscious choices when it comes to shopping.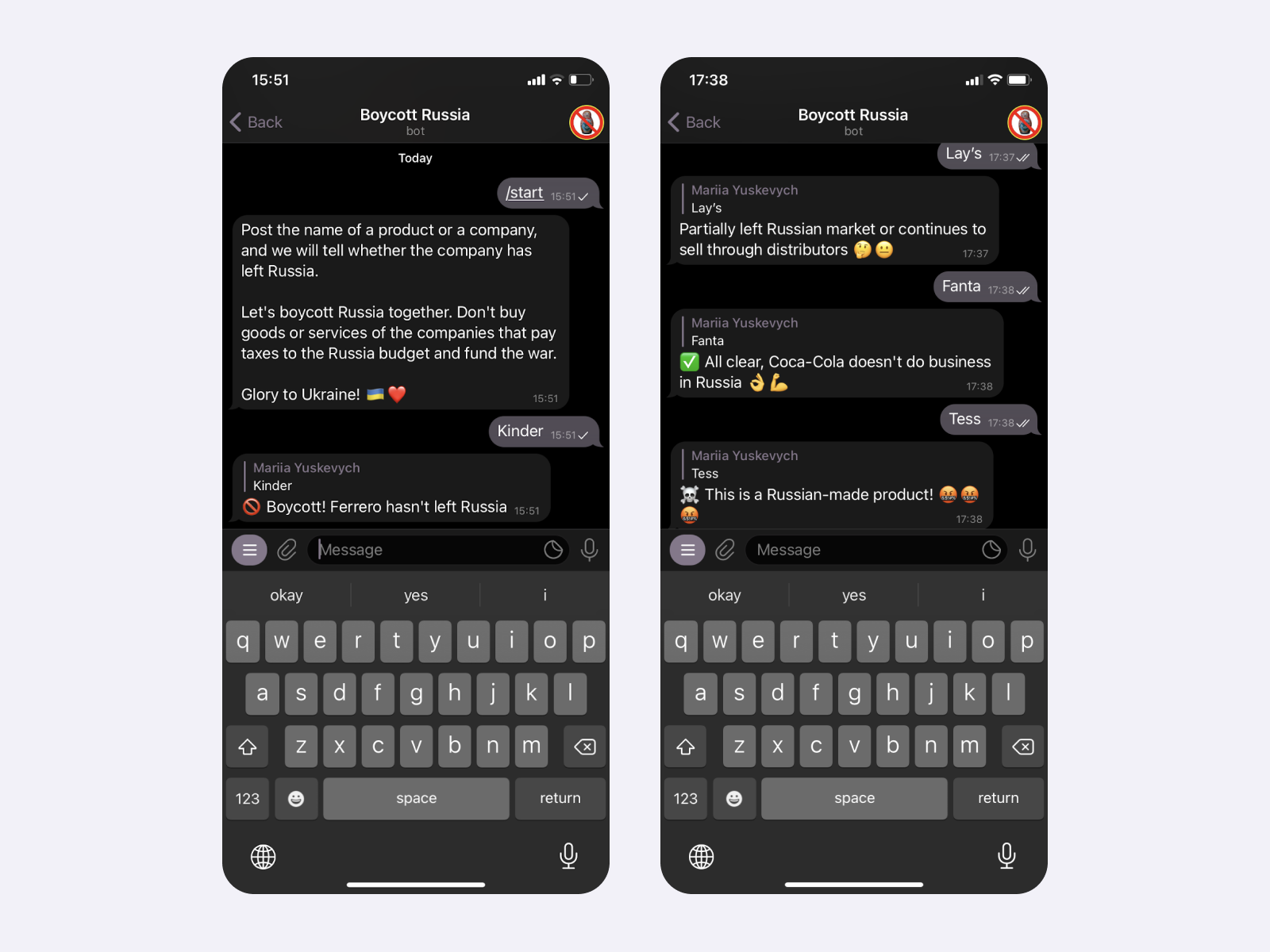 Ready for Anything bot for just being prepared for everything
Let's be honest, a full-scale war is something one can never be prepared for, especially mentally. Nevertheless, most of us have already faced unusual and dangerous situations and didn't always know how to act.
A Telegram bot called Ready for Everything is there for Ukrainians to get tips and action lists in case of various emergencies. From evacuating through military checkpoints to facing a chemical attack, one can find clear instructions on what to do.
This bot is convenient both for reading information ahead and finding advice ASAP when the situation is already happening. All the tips are structured step-by-step, so it takes seconds to find the guidelines you need.
The bot contains tips on any kind of crisis as well as information about getting psychological help, looking for a job, protecting yourself from disinformation, and more. Ready for Everything bot became an all-in-one critical information stop for Ukrainians during the war.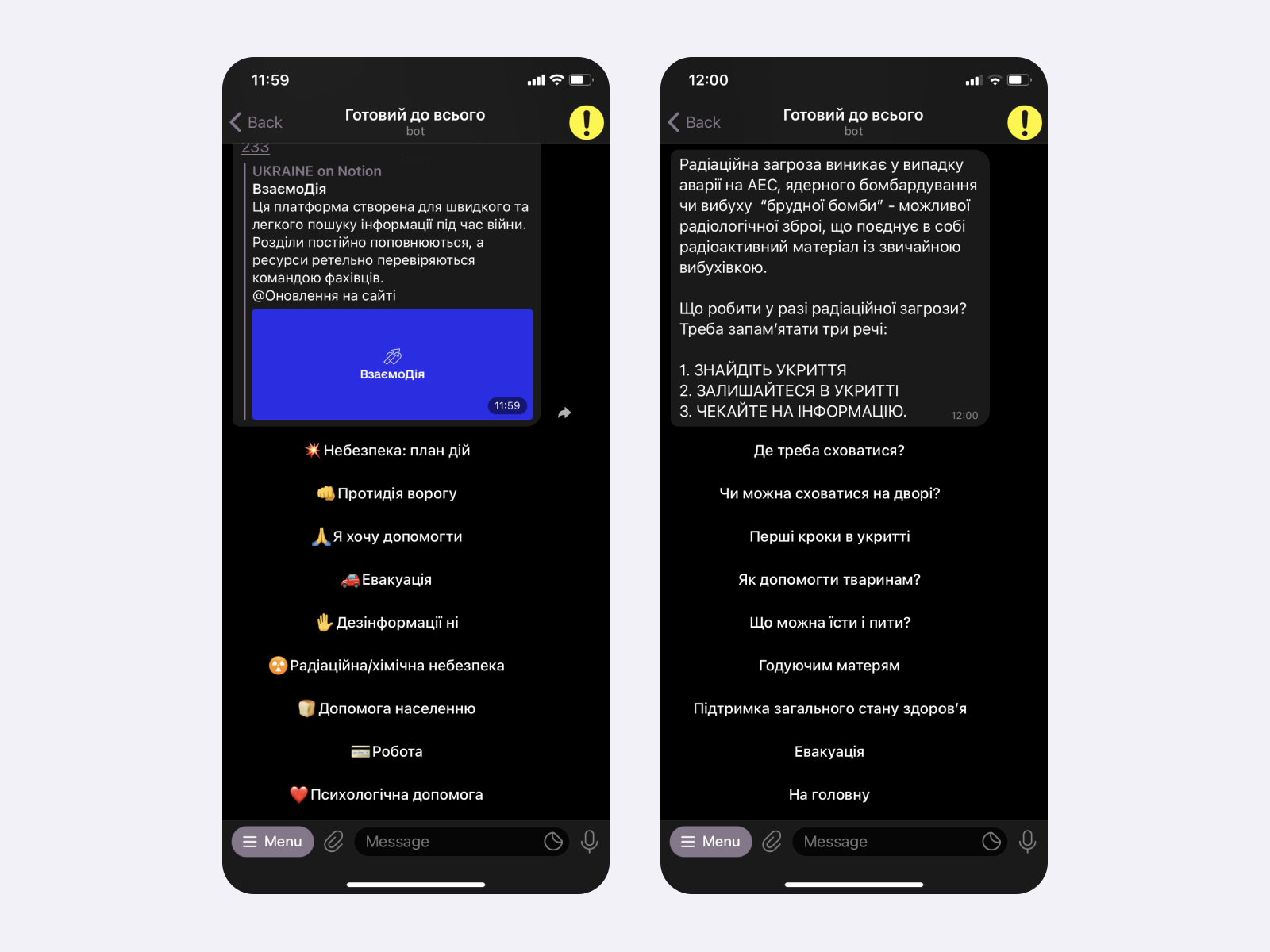 SirensToday website for spreading awareness about what Ukrainians are going through right now
The SirensToday website collects real-time data about air raid sirens in all Ukrainian regions. This solution is created to raise awareness about the constant bombings of Ukrainian cities. By seeing active sirens and how long Ukrainians have been hiding in shelters just in one day, foreigners can better understand what people in Ukraine are going through.
The website also contains statistics on how many people are hiding from airstrikes at the moment and how much time Ukrainians have spent sheltering from the beginning of the full-scope war.
Apart from viewing the data on SirensToday, you can also donate to the biggest organization providing support to the Armed Forces of Ukraine.
Animal ID service for locating lost pets
The horrors of war impacted not only people but their pets too. As heartbreaking as it is, many pets get lost or separated from their owners for a number of reasons. Some animals get scared of the sirens, intruders, or big crowds during evacuation and run away. Others are sadly have lost their owners forever in the war. All these animals need to be taken care of and, if possible, identified.
Animal ID is a service for tracking pets through QR codes on their tags. Anyone finding a lost pet can scan the code and get the owner's contact information, including their phone number and current location, to get in touch. The service can be accessed from a web page, iOS or Android app. The solution was created before the full-scale invasion, but thousands of Ukrainians could find their pets thanks to it in the past month.
Additionally, the solution contains all the pet's documents, such as IDs and vaccination cards. Those Ukrainians going to foreign countries can show all the data in the app to cross the border with their pets. The service works worldwide and currently has more than 200 000 registered pets.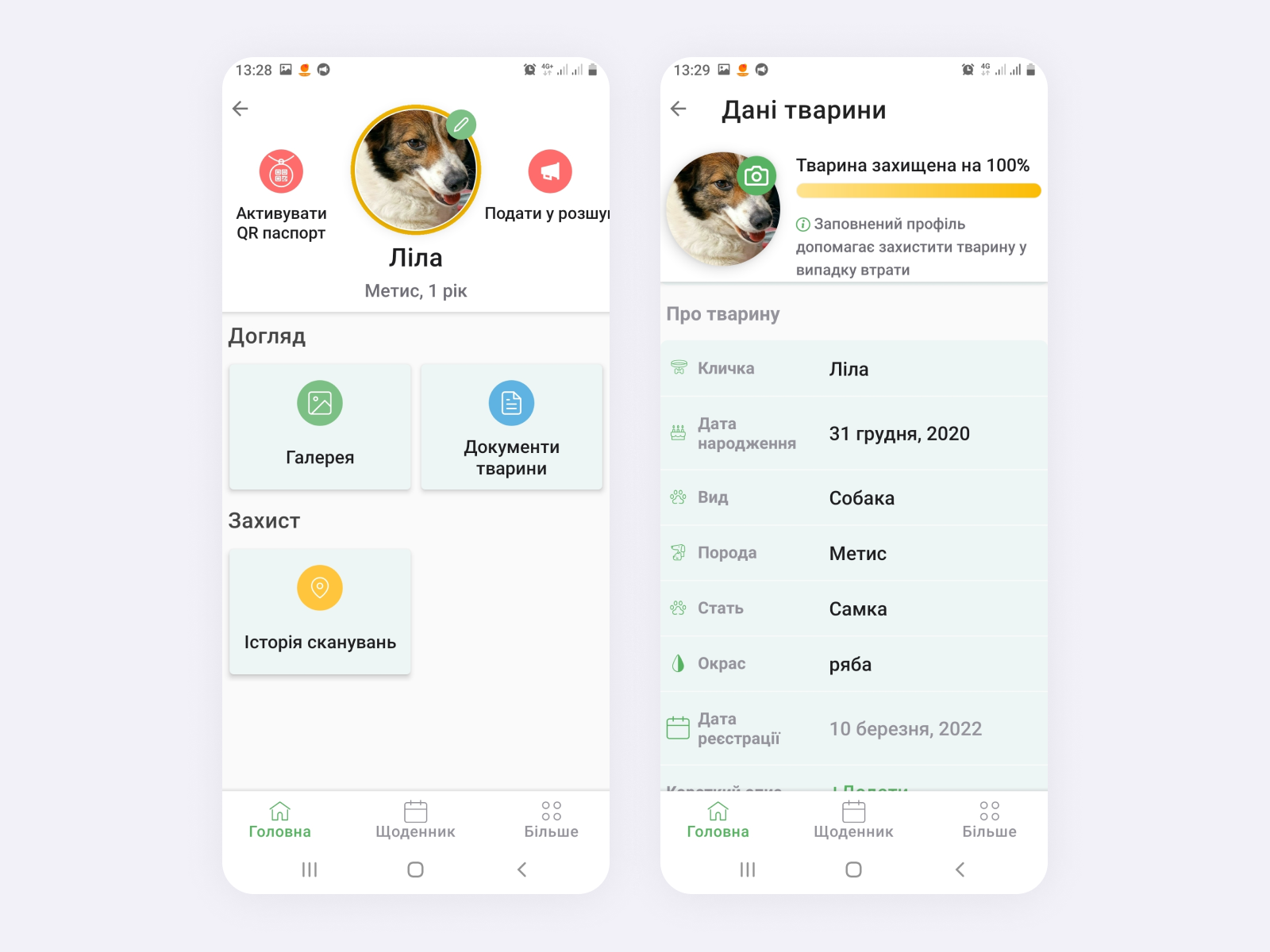 Perpetio's input: a mobile app for finding a shelter nearby
Perpetio team is not standing aside too. Currently, we are developing a mobile application for finding the closest shelter to hide when a civil defense siren goes off.
Our company is based in Lviv. It is a relatively safe and calm place in Ukraine — there are no active military actions here, so people can keep working, running errands, and helping the front line. Nevertheless, Lviv hears civil defense sirens pretty much every day. We already know where to hide while hearing the siren at home or at the office.
The main problem is that currently, there is no convenient solution for finding the nearest shelter as soon as possible when a person is not at home. We can use an online map with shelters, but, unfortunately, it doesn't work perfectly and takes quite a long time to load.
Some cities, like Kremenchuk, already have dedicated mobile apps with shelter maps. Soon, Lviv will have a convenient application too. It is way quicker and easier to open a well-designed app than a map in a browser that is hard to zoom in and find your location.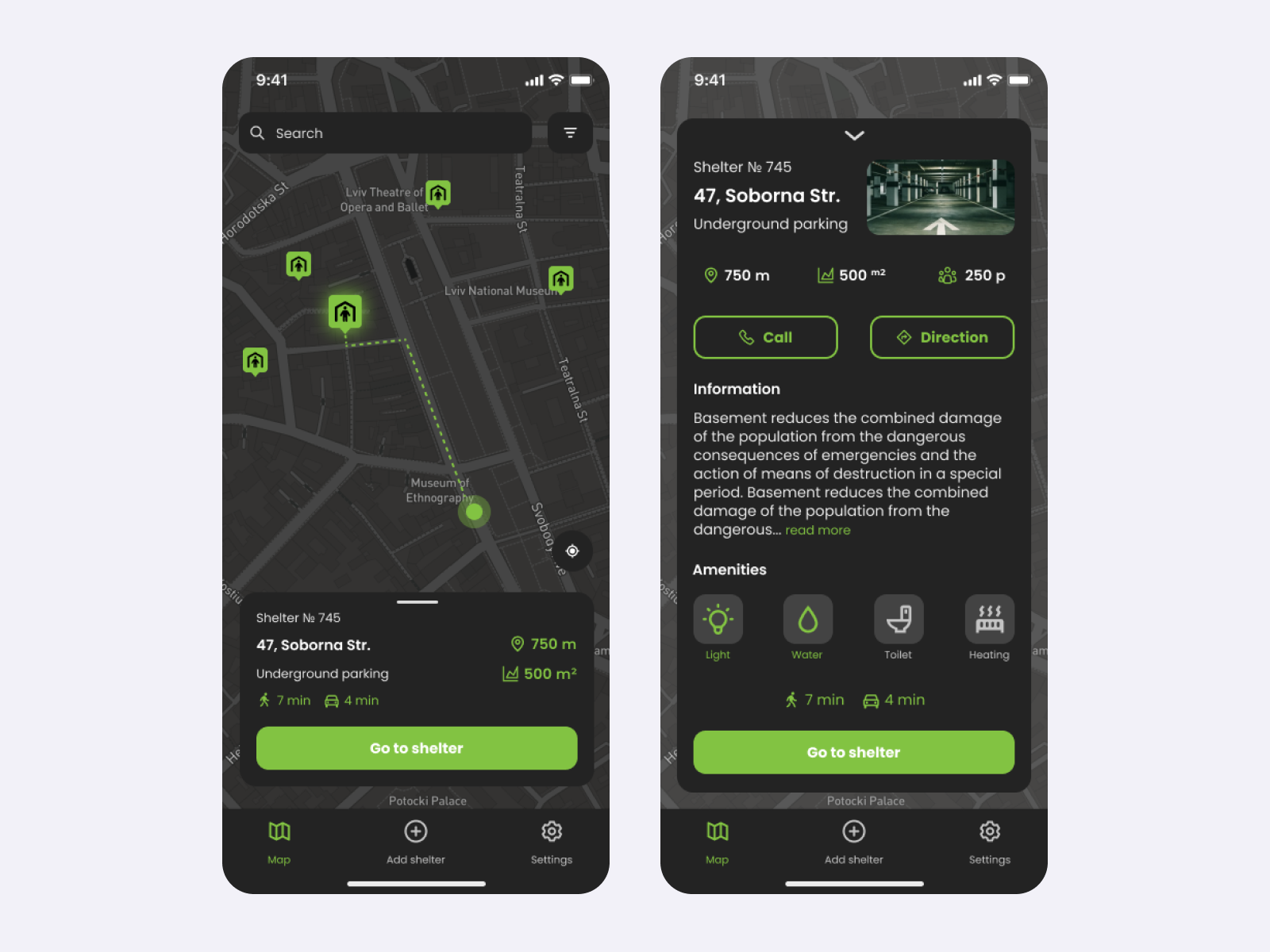 Before you go — you can help too
Of course, those are not all the solutions created to help Ukrainians during these hard times. Apart from the services we described, there are lots of other amazing platforms, such as:
Pryhystok website for sharing or finding temporary accommodations for Ukrainian refugees.
#WorldforUkraine website for observing the magnitude of the world's actions against Russian aggression. It is an interactive map of rallies and protests supporting Ukraine all over the world.
Vzayemodiya website for getting all sorts of information during the war. From emergency "What to do if…" guides to getting married during the war — all the answers in one place. A map with current air raid sirens all over Ukraine.
Many Ukrainians are helping their country while you are reading this text: by dedicating their time to volunteering, making new online platforms, welcoming refugees, or keeping working and supporting the economy. And you can help too! Express your support publicly, send a donation, choose Ukrainian businesses to collaborate with — any help would be much appreciated.
Ukrainian companies keep operating, so people still have their positions, get salaries, pay taxes and donate to aid the army and those in need. And we at Perpetio are not an exception too. Our team is continuing to design and develop for our clients and is open to new projects. If you decide to support the Perperio team and trust us with your project — drop us a message here.