Mobile design is not only about looking stylish and attracting users' attention with vivid colors and fun illustrations. You've probably heard this statement many times before, and that's for a reason — the convenient, user-centric, and innovative features are as important.
But how do you make sure that your app's design is not outdated neither in terms of style nor when it comes to UX? By being aware of the current app design trends and best practices. Let's check out the top 10 mobile app design trends for 2022 — forewarned is forearmed.
Emojis everywhere
Let's start with 2022 UI design trends. You might have noticed that emojis are present not only in your WhatsApp messages. An app UI designer can already actively use emojis in their solutions. These are universal symbols, well-known to most of us. Users immediately recognize the mood and meaning behind each symbol and, in such a way, the app's design becomes understandable for us even without the extensive UX texts. All of this makes navigation in the app quick and easy.
What is more, emojis bring friendliness and lightness to the product. They communicate your brand as "easy-to-deal-with" and don't bother the users with too much seriousness. When thinking about sprinkling an emoji here and there in your UI, remember about your application's purpose and target audience. And, of course, don't overuse this trend to keep your design unique.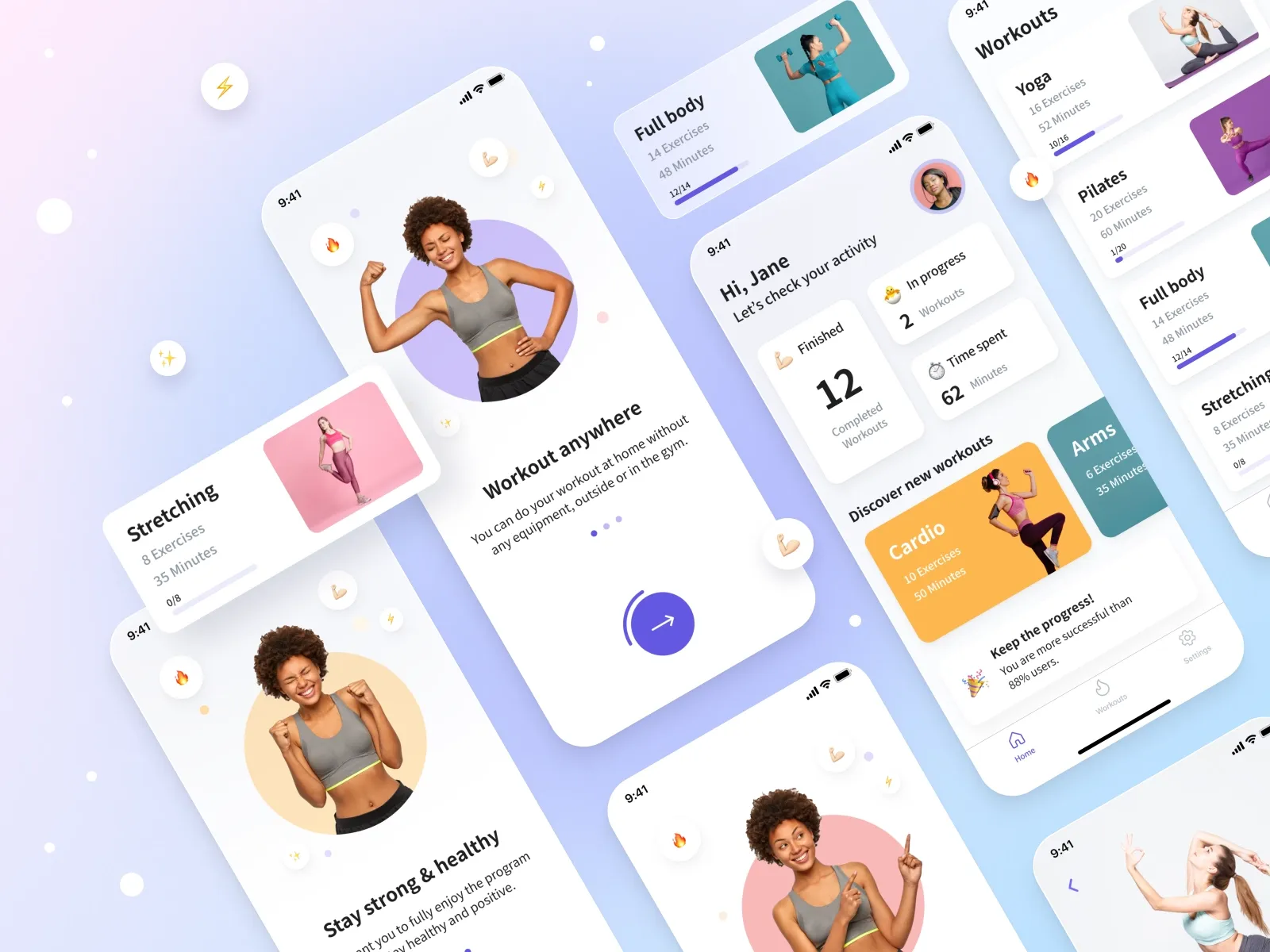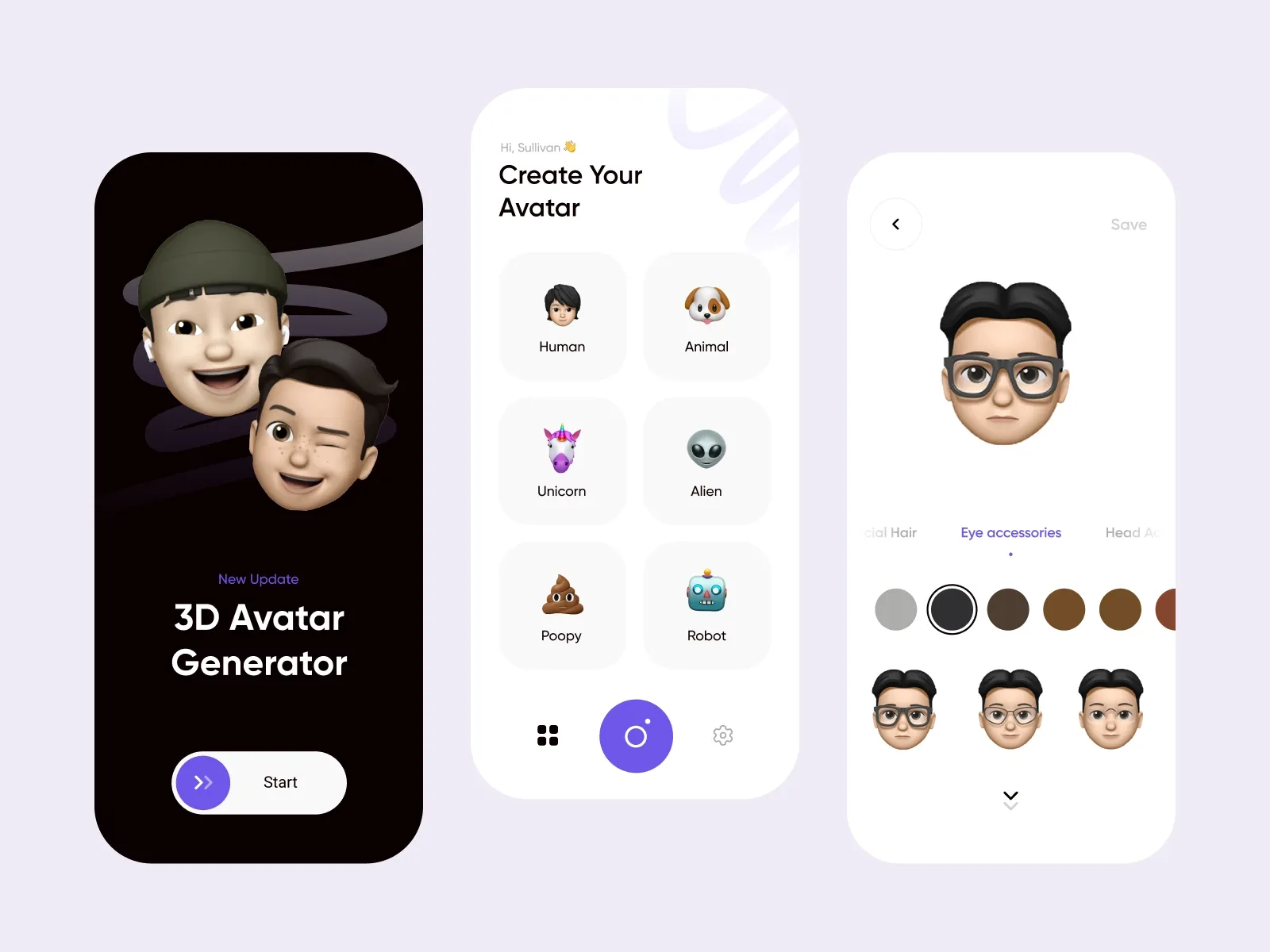 Funky 90s UI
Minimalist UI design is not a way to make your users happy anymore. Of course, it doesn't mean that your app should be a cluster of too many features and an excessive amount of colors. The point is that there are way too many similar simplistic two-color applications out there, so it's time to roll out something funkier.
While in 2020 and 2021, the 80s-style UI was among the mobile design trends, now, the 90s aesthetics is making a great comeback. Vivid colors, bold fonts, visible shadows, pixelated typography and pictures, Memphis style — all these elements will likely occur in the app UI design trends in 2022.
Whether it's the 70s, 80s, or 90s, nostalgia is always a powerful way to evoke positive emotions. Even if your users never interacted with the authentic 90s design. Visual trends are cycling back and forth at all times, so who knows, maybe in 2022 or 2023, we will see the early 2000s style rebound.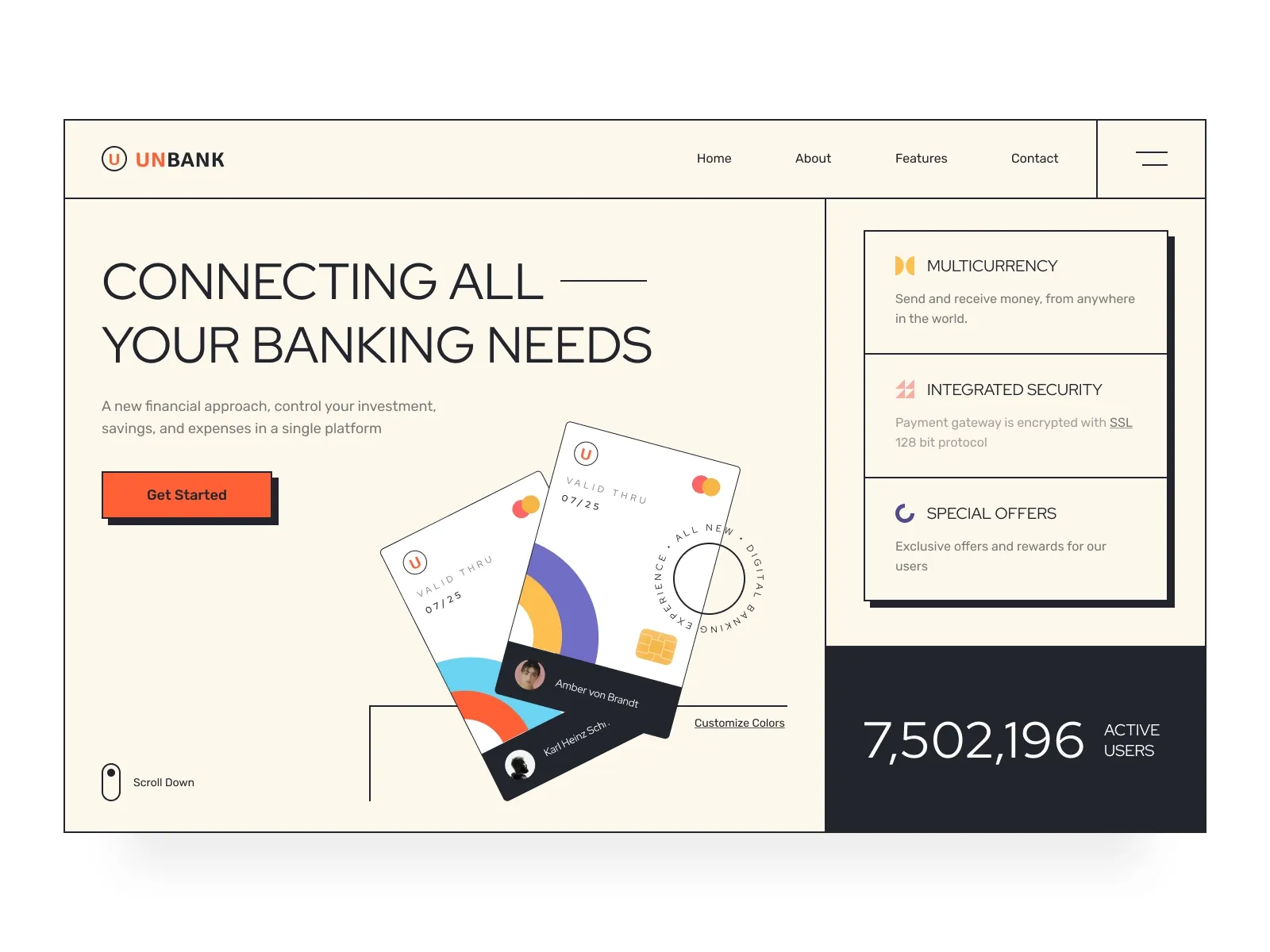 Animation is still trending
The animation continues to be among the top current UI design trends year after year. No wonder — it's a perfect tool for catching the user's eye. Be it a microinteraction or a full-scope illustration, a bit of animation is always engaging and fun.
🙌🏻
Let Perpetio create a fun yet effective UI/UX design for you!
Tell us
about your project, and we will take care of the rest.
When it comes to animation styles and approaches, your creativity is the limit. You might get your typography moving, add unusual illustrations to the onboarding screens, or make the in-app navigation simpler. Pay attention to the 3D design animation: it totally is among the application UI design trends in 2022 as it still has a somewhat unusual look to it.
With the rapid adoption of 5G over 2021, designers don't have to worry about slow internet interrupting the animation, so 2022 is definitely a good time to try out some more complex ideas and unleash your imagination.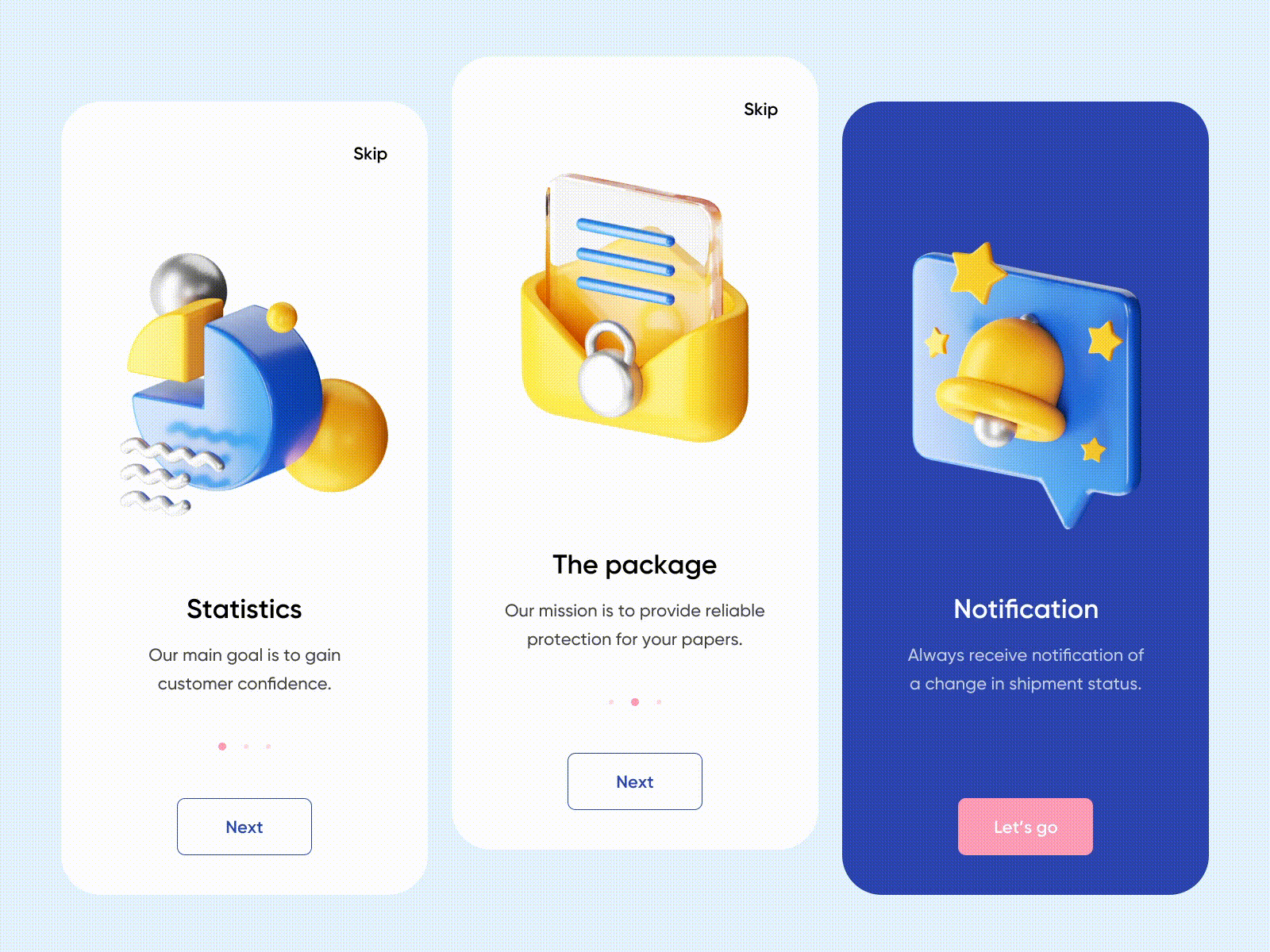 Brutalism
Brutalism is among the top UI trends in 2022. This style will definitely bring a touch of edginess to your design. The black and white color palette, bold typography, and lots of photos — these are the main characteristics of the brutalist UI design that takes its inspiration from the 1950s architectural style.
Brutalism design might not be as "clean" as other styles: fonts are usually a bit harder to read, the typography and elements might seem clustered, and there are many sharp edges. That's why brutalism won't suit every project, so probably it's best to make sure that your users will understand and appreciate this artsy approach. If your target audience is young people and your project revolves around art and creativity, why not? Take a look at the examples below: brutalist UI is perfect for music players.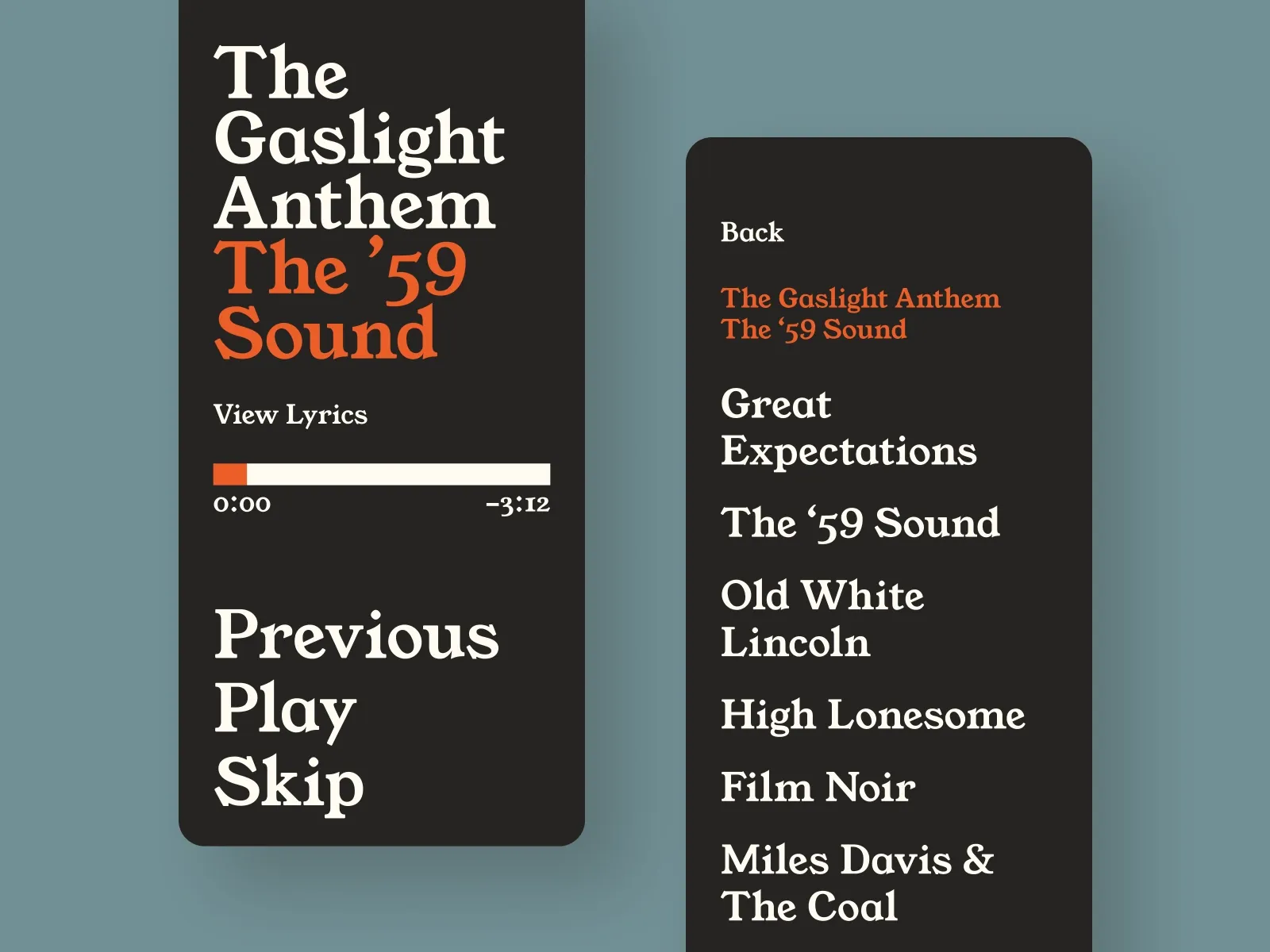 Unusual typography
We will repeat again: minimalistic and standardized design is not as interesting for the users anymore and isn't among the mobile app UI design trends. Sure, if you are redesigning a banking app, you might go for a simpler interface to make sure that the audience of all ages will easily achieve any task there. When it comes to standing out and attracting new users, you might need to go the extra mile.
As an option, you can play around with your fonts. Unusual fonts give your design a refreshing look and drag the user's attention right away. You can feel free to combine different fonts, add the one you were too afraid to use because "it's too way-out", and get that big and bold typography in your design. Just remember to keep it readable and responsive.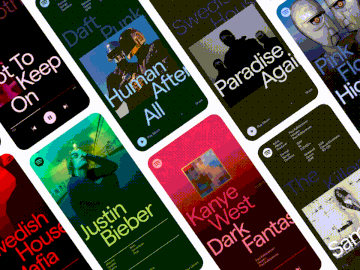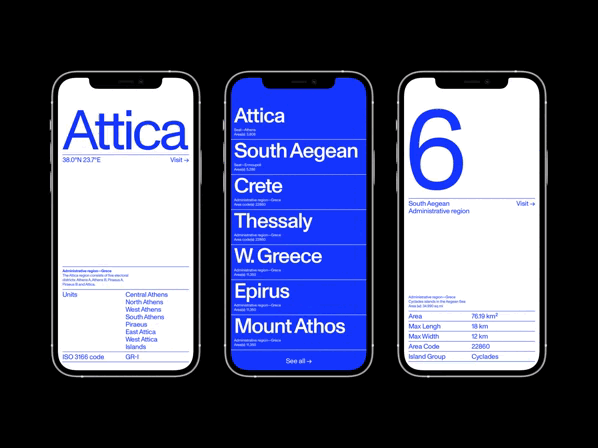 Microinteractions
Let's now talk about 2022 mobile app UX design trends. Microinteractions are definitely "the" trend for this year. It's fair to say even more — this practice is becoming a must-have for any digital design rather than an innovation.
Mircointeractions are all the actions targeted on a single task. These, at first sight, minor UX elements smooth the user journey, make navigation in the app more straightforward and bring a touch of friendliness to the product. A little animation here and there also creates the overall mood of the app and communicates your brand. Again, just like with emojis and most trends, don't go over the top with mircointeractions so you don't overwhelm the user.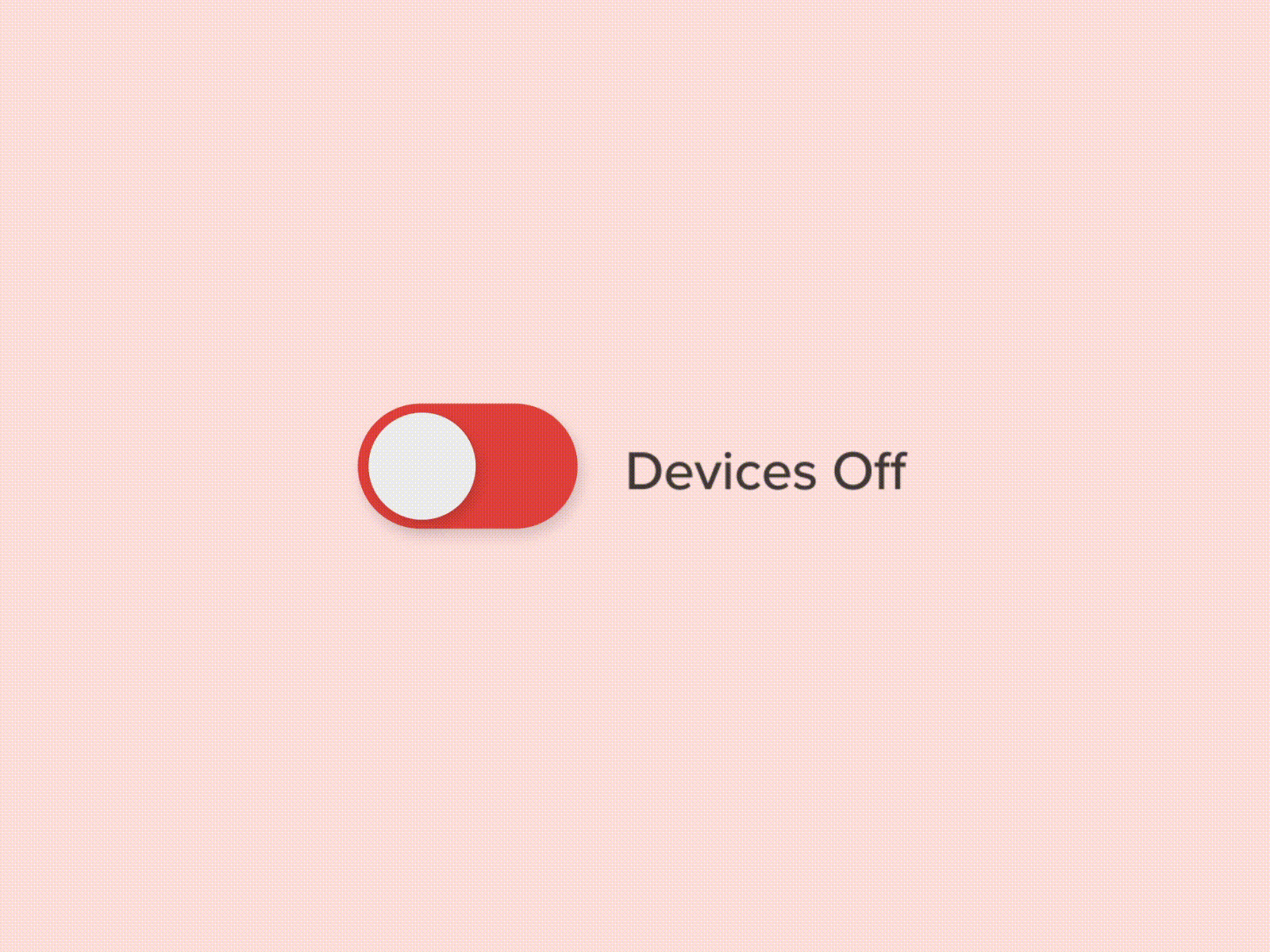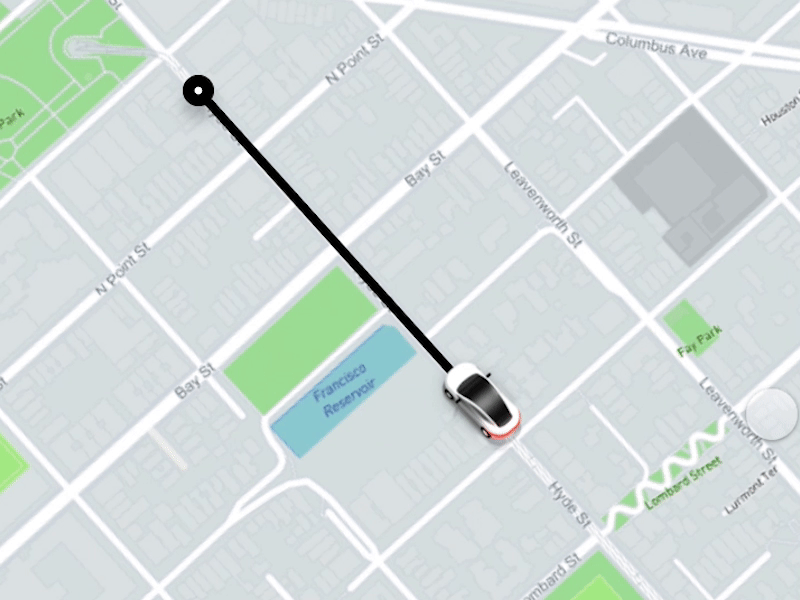 Social media elements
Social media elements, such as stories or comments, are sneaking into all kinds of apps and surely are UX design trends for mobile apps this year.
Be it a health tracker or a shopping solution, users love to scroll through some useful posts and share their experiences in the comment section. For example, a flight booking app might feature posts with travel advice or the best ticket offers.
A special mention goes to stories. This feature is no longer exclusive to Instagram or social media in general. A photo or video that stays up for 24 hours only is a perfect way to share updates, make announcements, or demonstrate products in stock.
Face or Touch ID verification
The main characteristic of any design is to be convenient. Period. And sparing your users from entering the password every time they open the app is a sure way to make your product more user-friendly. Face or Touch ID takes just a few seconds and doesn't stress the users out when they can't remember their password.
Such sign-in methods are becoming common practice for all kinds of applications. They not only simplify users' lives but also bring an extra layer of security. It's likely that soon enough, most people will forget about entering the password on their mobile devices, thanks to Face ID and Touch ID. That's why these technologies are for sure the 2022 mobile app design trends.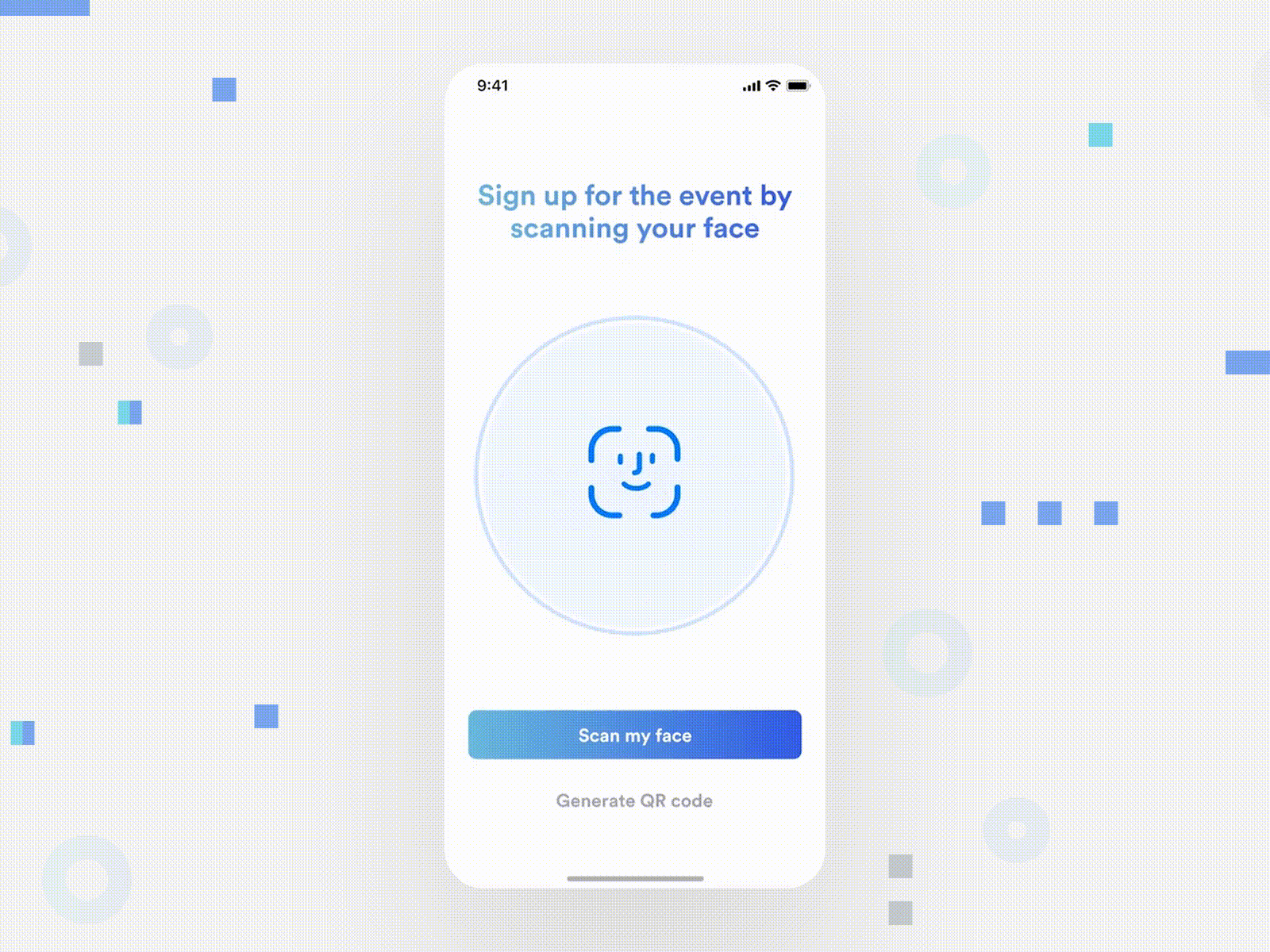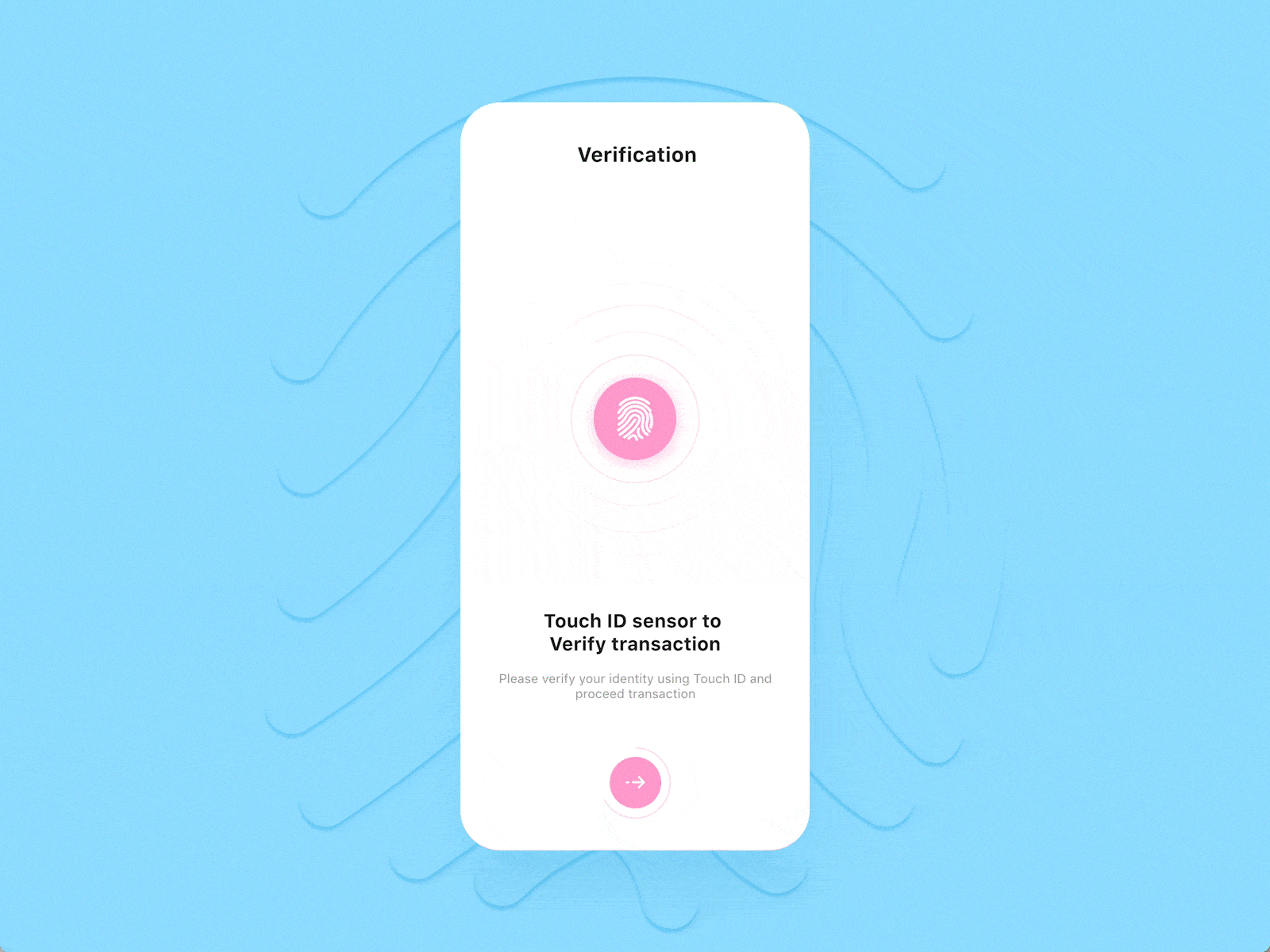 VR and AR
Virtual and augmented realities have been around for a while, but we can expect these technologies to get even bigger and truly become UX design trends in 2022. You ask why? We have already discussed this topic in our tech trends article: Apple gave us some hints about their very own VR/AR headset. And we all know how it goes: if Apple creates something, it instantly becomes a trend.
Augmented reality is among the UI / UX design trends for 2022 because it doesn't require any extra hardware but gives an amazing effect. For example, users can see a virtual catwalk when choosing clothes or see how the furniture fits into their room. Not to mention the potential of AR for gaming.
For example, at Perpetio, we recently created an AR apartment booking app — users can easily find detailed information about accommodation and book it right away by pointing the camera at the building.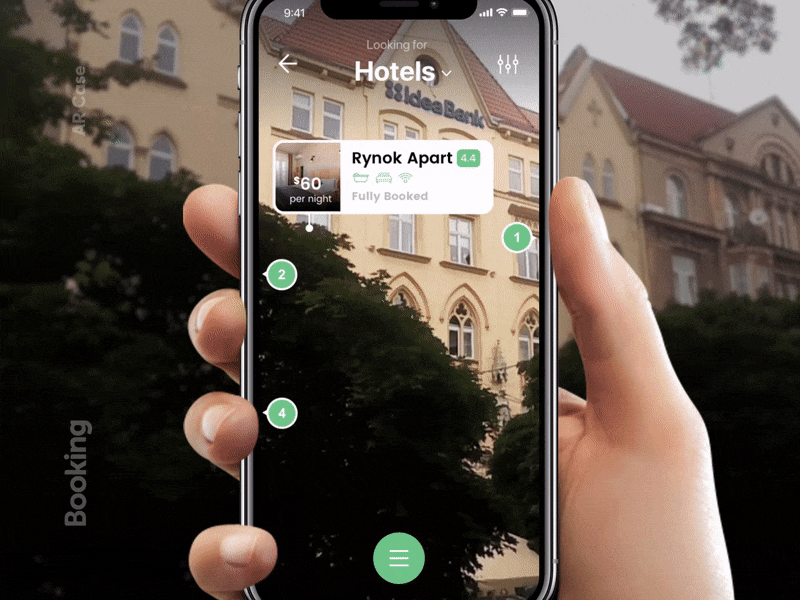 Artificial Intelligence
Finally, it's impossible to discuss 2022 UX design trends without mentioning artificial intelligence. This technology is applicable in a wide variety of situations — from customer support chatbots to AI-based product suggestions.
AI might not be a must-have feature for an MVP product, but it definitely helps with getting new users later on. Artificial intelligence is the main tool for creating a personalized experience and, as a result, winning your users' hearts with the content they love.
Summing up
It's been a year since we released a similar article about 2021 mobile UI design trends. When rereading it, you can notice that most UI / UX app design trends we discussed back then, like dark mode or using real-life photos, are now common practices. And that's what we should remember about trends: while some of them might come and go, many trends become best practices, so adopting those early on makes you a true innovator or, at least, attracts the users' attention.
🚀
It is easier to stay on top of things when you have a design team at your back. After all, it is the designer's job to monitor all the trends and understand the best practices.
Collaborate
with Perpetio to get an app that works for your business and users.
FAQ
What is the next big trend in UX?
There are several UX design trends to watch out for, such as microinteractions and social media elements.
What are the most recent trends in UI UX designs?
Recent UI/UX trends include the 90s-style designs, brutalism, active use of emojis, microinteractions, unusual typography, AR/VR, and more.
What design UX trends will be popular in 2022?
Among the UX trends to gain popularity in 2022 are artificial intelligence, Face and Touch ID, microinteractions, AR/VR, and social media elements.